Jellyfish Paper Plate Craft
This jellyfish paper plate craft is a fun and easy craft for preschoolers. Kids will love making this happy jellyfish out of paper plates. This preschool craft is simple and you probably already have all the supplies you need on hand!
I've always loved preschool crafts that require very little prep and very little mess. What's not to like, right? This happy little jellyfish will make a cute room decoration, bulletin board addition, or even a fun puppet to play with. You could even turn it into an under the sea themed mobile by adding some fish and seashells to a hanger and hanging it up in your child's bedroom.
While it makes a great indoor activity when your little ones are bored, you could also try this easy paper plate craft with a group of children for your next birthday party, too!
Note: if you're making this with your littlest ones, they will need help tying the yarn and using the hole punch.
Easy Paper Plate Craft for Preschoolers
First, you'll want to gather your supplies so you're ready to get started.
Supplies Needed:
Blue craft paint (I used a color called Aqua Sky, but you can make your jellyfish any color you want!)
Blue yarn (this color can also vary)
Self stick googly eyes (or glue if they aren't self stick)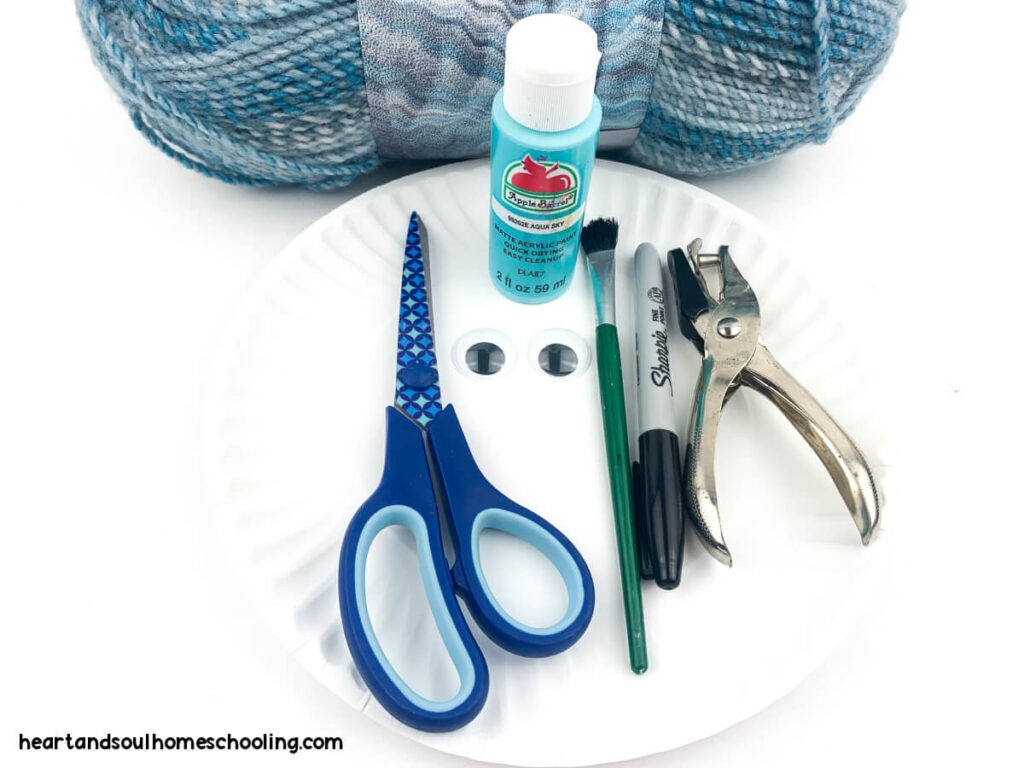 How to Make a Jellyfish Paper Plate Craft
The directions are pretty straightforward. You can follow the pictures step-by-step to put this cute little jellyfish paper plate craft together.
Directions:
Cut the paper plate in half.
Paint one half of the paper plate blue. Use a second coat if needed. Set aside and allow to dry completely.
Depending on how you plan to display or play with your jellyfish, you might want to paint the back as well.
Using the hole punch, punch 8 holes into the flat bottom part of the paper plate. Try to space the holes out as evenly as possible.
Cut the yarn into 12 inch pieces. Complete this step 8 times.
String each piece of yarn into each hole in the paper plate and tie into a knot. (I place the yarn going through the painted side and tie in a knot on the unpainted side.
Stick (or glue) the eyes onto the paper plate. Your jellyfish is really coming to life now!
Draw a mouth. The sweet little smile gives your jellyfish a real personality.
Now your paper plate craft is ready for play or display!
We made several colors of jellyfish, including pink, purple, aqua, and yellow. They make cute bedroom decorations. Your kids will be so proud of their jellyfish paper plate craft creations!
Do you have a kiddo who just loves ocean animals? You're going to want to try these fun activities, too!
These Jellyfish coloring pages are a fun activity to go along with the coloring pages. You can download them for free!
Download these free J is for Jellyfish handwriting practice worksheets.
A Visit to the Aquarium is a post I wrote about our trip to the aquarium, along with ideas to plan your own trip — even a virtual one! There are free printable activity pages, too!
10 Ocean Themed Books for Kids will help you fill your book basket!
Ocean Animals Handwriting Workbook will help your kids practice their handwriting with an ocean theme.
Ocean Animals Directed Drawing Pages
Studying Ocean Life with Delight-Directed Science
Make your own frugal and fun ocean-themed sensory bin with step by step instructions I included in this post, along with free printable ocean activity pages: DIY Sensory Bins for Fun and Learning
You might also like these related craft posts:
20 Adorable Butterfly Crafts for Kids
20 Simple and Fun Flower Crafts for Kids
Make Your Own Hyacinth Pipe Cleaner Craft
20 Coffee Filter Crafts for Kids