6 Science Lessons You Can Teach Using Homemade Slime
Wouldn't it be great if you could turn slime making into a science lesson? The truth is you can! There are all sorts of basic science lessons you can teach your children via slime making, you just have to get creative.
Don't miss the free printable slime recipe below!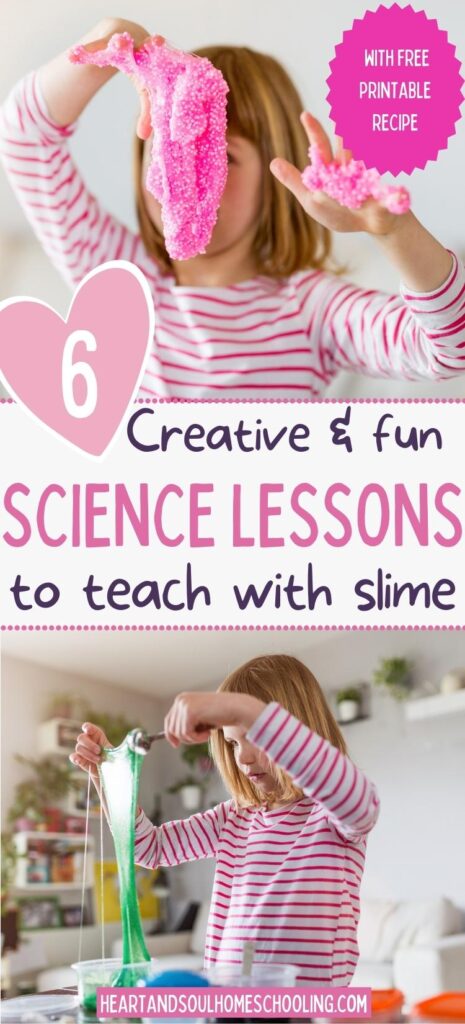 Look at these 6 science lessons you can teach using homemade slime, then head to the kitchen and start cooking up a batch of memories AND valuable science lessons!
Hands-on science lessons are always the best-loved by kids, like this bouncing bubbles recipe. What kid doesn't love bubbles and slime, right? Meanwhile they're learning about physics and chemistry without even realizing that the fun is actually a science lesson!
Free Printable Slime Recipe
We've made a lot of homemade slime over the past few years and I'd guess that most homeschool families have, too! We've tried premade kits as well as homemade from scratch using ingredients like Borax, contact lens solution, shampoo, soap, glue, and more. Some have had better results than others, but here is a free printable slime recipe that should work for you:
Slime Science Lessons
1. How to make predictions.
A great scientist always makes predictions. Predictions can help us estimate what may happen when we do an experiment. Predicting an outcome is important and helps us further understand the experiment. Before you create your slime recipe, talk about predictions. Ask children what they predict will happen when the ingredients are mixed. What helps them draw this conclusion?

2. How to identify cause and effect.
The world is full of cause and effect situations and slime making is no exception. Talk about cause and effect and how one action can lead to another in the world of science. For example, in slime making the action of mixing your ingredients will result in a specific outcome. Talk about cause and effect and look for examples of it in daily life.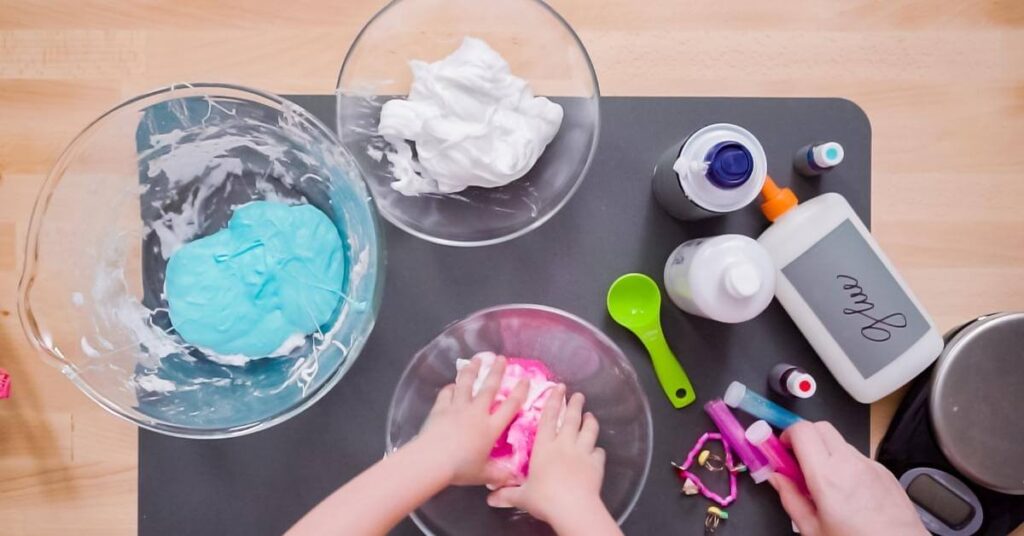 3. How to identify liquids and solids.
Do your children know the difference between liquids and solids? Making your own slime is a great way to teach this skill. First look at the ingredients and talk about their consistency. You can then make the slime and talk about the consistency. Look around the house and find other examples of liquids and solids. When talking about slime, you can also explore how it takes the shape of the container it is in much like a liquid, but is firm to the touch like a solid. Slime is perfect for exploring this concept, and you might find yourself in a heated debate about whether slime is a liquid or solid!

4. The importance of following order/direction.
Science experiments need to be followed in a specific order. When making slime, talk about how important it is to follow numeric order when following the directions. This way you know your outcome will be correct. Pay attention to numeric order and find other situations or recipes where numeric order is important.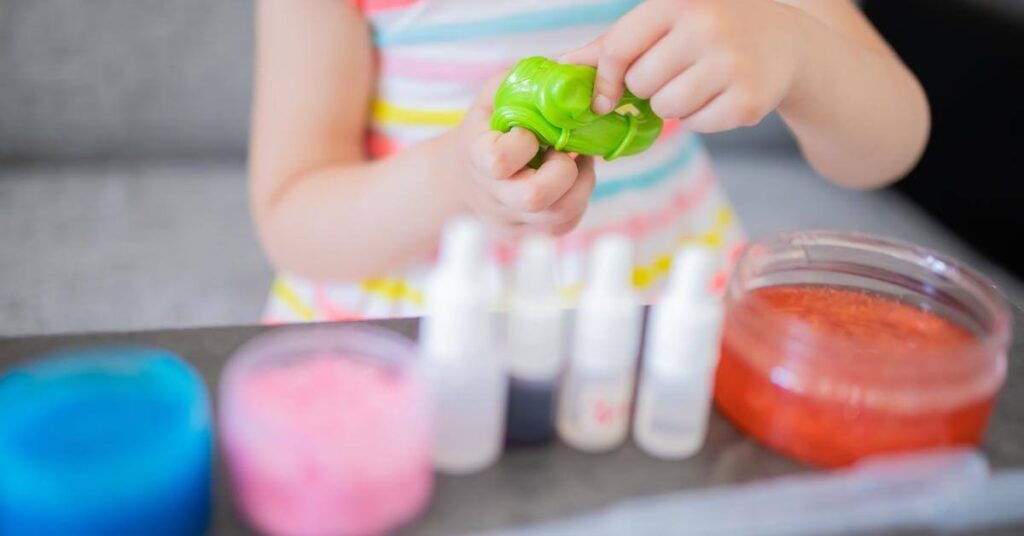 5. Identify chemical reactions.
Making your own slime is an excellent way to identify chemical reactions. When you mix your slime ingredients, you will notice changes to the substance right away. Take the time to talk about the chemical reactions taking place when you mix your ingredients and how the chemicals are changing.

6. Explore the color wheel.
The colors that surround us are very much the result of science in action. Take time to explore the color wheel when choosing colors for your slime. You can also talk about mixing colors to achieve a certain hue, or how light effects color.

Did you ever think making slime would be an ideal way to teach basic science skills? Consider these 6 science lessons you can teach using homemade slime and see how much educational fun you can have.
Want more fun ways to learn with slime? Check out this post: 6 Fun Ways to Teach Math Using Slime

Don't forget to grab your free printable slime recipe right here so you can get started today!

The Best Slime Kits for Kids
Not ready to make your own slime from scratch? There are tons of slime kits to choose from to simplify things! Take a look at some of our favorites:
This Elmer's Glue slime kit is a great starter kit for beginners:
Want fluffy ice cream slime? This kit has what you need!
This galaxy slime kit has glow in the dark slime!
Have a kid who loves dinosaurs? They'll love this dinosaur slime kit!
This Elmer's Glue slime kit has metallic and confetti ingredients!