Nature Scavenger Hunt for Kids (Free Printable)
A nature scavenger hunt is a fun way to get children excited about spending time outdoors and exploring the natural world. Nature scavenger hunts can be done in a variety of settings, from parks and playgrounds to beaches and forests. They can be customized for different age groups and skill levels, making them a great activity for homeschool families. My daughters love scavenger hunts of all kinds, so they've become a regular part of our routine as often as possible.
Download this free printable nature scavenger hunt for kids and enjoy a fun and simple outdoor learning experience today!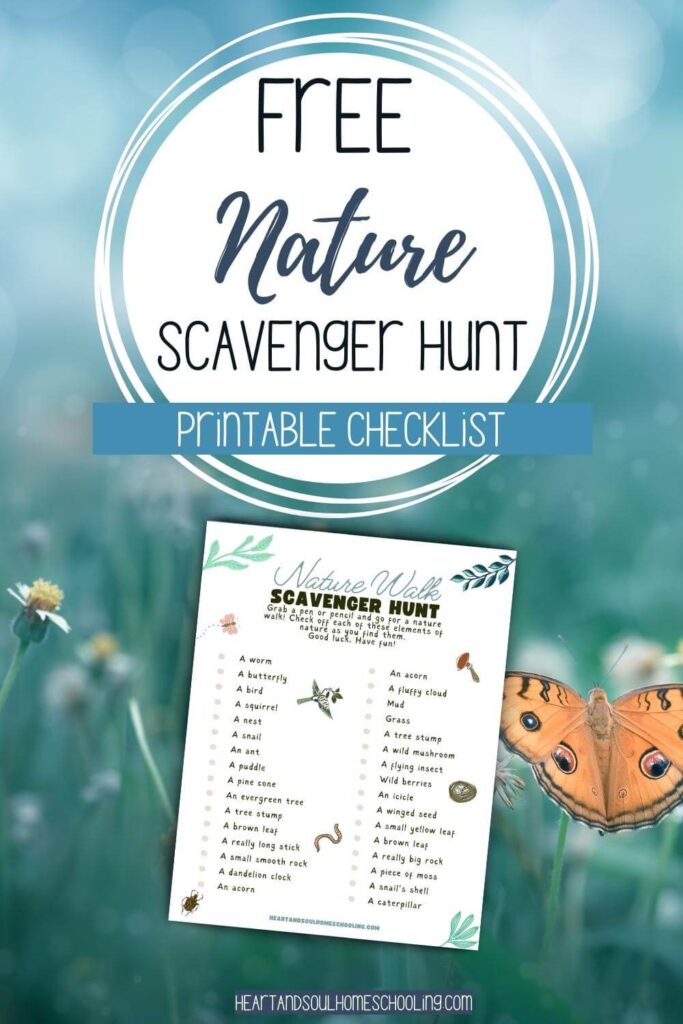 Free Printable Nature Scavenger Hunt
A nature scavenger hunt doesn't require exotic locations. You can do this in your own backyard, a local park, or in your neighborhood. It's also fun for camping trips or family hikes. We enjoy nature walks in our family, so this works perfectly. Kids can learn a lot about nature just by being outdoors and observing it. It's a fun hands-on science lesson!
I recommend laminating the scavenger hunt so you can use it over and over again. Use a dry erase marker to cross out the items you find and then simply wipe it down to start again. I use this laminator for things like that. It really comes in handy for so many things!
Need more ideas? Check out this sensory motor outdoor scavenger hunt for another take on it.
To download the scavenger hunt, just enter your information in the form below and it will be sent to your inbox right away!
Outdoor Scavenger Hunt Ideas
So what exactly is a nature scavenger hunt for kids? Simply put, it's a game that involves searching for specific items or completing tasks related to nature. The goal is to find everything on the list or complete all of the tasks before returning to a designated meeting spot. Here are some tips for planning a successful nature scavenger hunt for kids:
Choose a location: The first step in planning a scavenger hunt is to choose a location. Look for a park, nature trail, or other outdoor space that has a variety of natural features, such as trees, flowers, rocks, and bodies of water. Make sure the location is safe and appropriate for the age group you're working with.


Create a list: Once you've chosen a location, it's time to create a list of items or tasks for the scavenger hunt. Depending on the age group, you may want to include pictures or simple descriptions to help with identification. Here are some examples:
Find a feather
Spot a butterfly
Collect a rock that is smooth
Find a leaf with jagged edges
Spot a bird's nest
Identify three different types of flowers
Find an acorn or pinecone
Spot a spiderweb

You can make this part really easy by downloading the free printable scavenger hunt above in this post!
Provide supplies: Depending on the items on your list, you may need to provide some supplies for the scavenger hunt. For example, you might want to bring binoculars, magnifying glasses, or field guides to help with identification. You might also want to provide bags or buckets for collecting items.


Set boundaries: Before starting the scavenger hunt, it's important to set boundaries and rules. Make sure children know where they can and cannot go, and remind them to stay safe and respectful of nature. You may also want to set a time limit for the scavenger hunt to keep things moving.


Have fun! The most important part of a nature scavenger hunt is to have fun! Encourage children to work together and help each other find items on the list. Celebrate when everyone has completed the scavenger hunt, and take time to reflect on what was found and learned during the activity.
Nature scavenger hunts are a fun and engaging way to get children outside and exploring the natural world. By providing a list of items or tasks like the free printable scavenger hunt in this post, along with some basic supplies, children can learn about nature while having fun with their friends and family. So grab the list, head outside, and start exploring!
Want more nature activities for kids?
I've shared many of our nature study ideas in these posts, so be sure to check them out!
11 Creative Ways to Connect Your Child to Nature
5 Ways to Celebrate Spring with Nature Study
Our Nature Study Homeschool Curriculum Choice
Nature Study Ideas for Creative Kids
Why You Need Nature Walks in Your Homeschool {and How to Do Them}
How to Have an Outdoor Scavenger Hunt in Spring (with free printable spring scavenger hunt)
How to Study Nature in Winter (with free printable winter scavenger hunt)
Christmas Lights Scavenger Hunt with free printable