10 Ocean Themed Books for Kids
This list of ocean books for kids will help you round out a unit study or fill a themed book basket for learning fun! Oceans are a fascinating habitat to study. Even if you can't get there in person, these ocean books and printables will help your children learn all about life under the sea!
Don't miss the free printable ocean activities to go along with them below!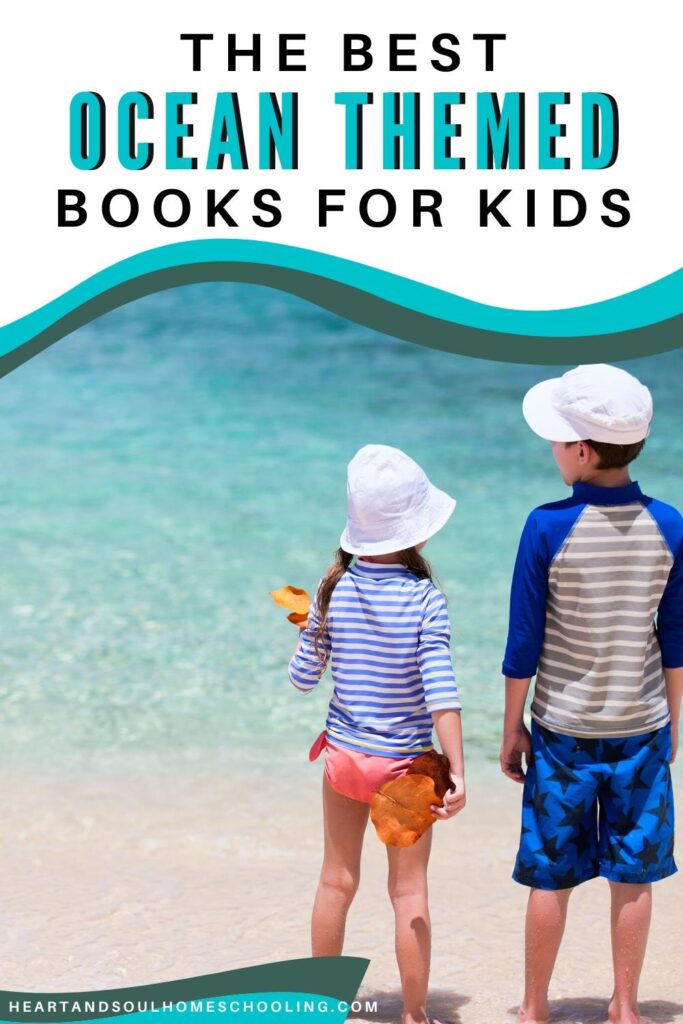 This list of
ocean themed books
really only scratches the surface, but they're some of our favorites through the years. They can add interest to your
unit studies
and
delight-directed learning
with
sensory bins
for your preschool through elementary-aged kids.
Click this image below to get the free printables. Just enter your email in the form and they'll be sent to your inbox instantly!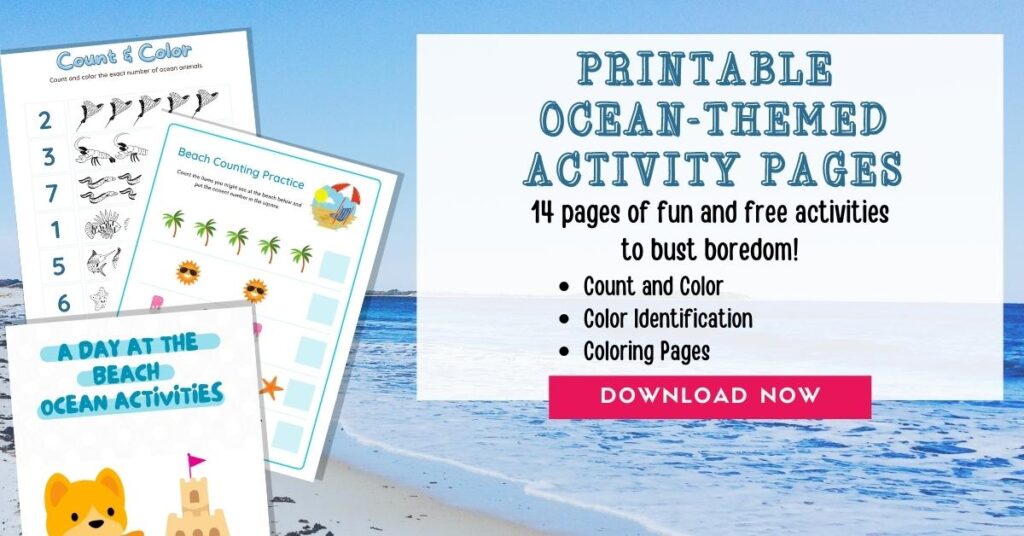 Our Favorite Ocean Themed Books for Kids
I wrote about the budget-friendly DIY ocean-themed sensory bin I made for my daughters, but I also wanted to share the list of books we used to go along with that fun study. In addition to making a trip to the aquarium, we used these books to enhance the connected learning time: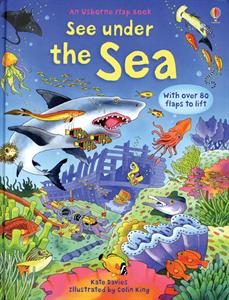 See Under the Sea:
Explore the world beneath the sea, from coral reefs teeming with jewel-bright fish to the icy waters of the Arctic. Lift the flaps to peer inside shipwrecks and gaze into the dizzying depth of dark trenches at the very bottom of the ocean.
My girls love lift-the-flap books (which also enhance sensory play time and fine motor skills!) so this one was perfect for them. It's a very sturdy board book and has stood up to constant use without tearing. The illustrations are bright and detailed.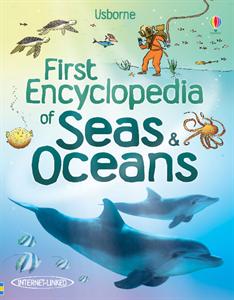 First Encyclopedia of Seas & Oceans:
How deep is the ocean? Which fish can blow itself up like a balloon? How do dolphins use sound to hunt? Stunning illustrations and photographs are ready to be viewed on the website that students will find inside the book cover.
This one has a mixture of illustrations and real photos. It's internet-linked, which means it lists kid-safe websites to visit to complement the lessons. It's meant for kids 8 and up, so Big Sis (11) used it in preparation for our aquarium trip.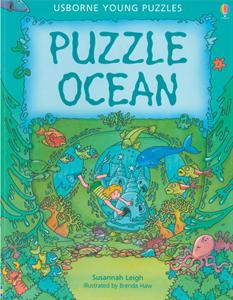 Puzzle Ocean:
It all begins with a message in a bottle! Join Rosie in an amazing underwater journey with friendly dolphins and scary sharks. This lively story, linked with lots of fun and challenging picture puzzles, is packed full of extra things to spot along the way – making it one to enjoy again and again.
If your kids like I Spy books, they'll love the puzzle book series. It's a fun story combined with the "spot the item" hidden pictures and a chance to use some detective skills throughout the story.
1001 Things to Spot in the Sea:
Brimming with things to find, count and talk about, this charming picture book provides hours of puzzle-solving fun. Readers will delight in discovering the secrets of the sea.
We LOVE the 1001 Things to Spot series! It encourages counting and number recognition skills for the younger kids, plus the pretty, detailed illustrations are hard to resist for all ages. I find myself going through these books to spot all the items! Seems like we notice something new every time we look at this book. We have a few in this series (they have tons of themes!), but this ocean one was perfect to go along with our lessons.
Under the Sea:
The sea is full of surprises, so come on in and take a look. You'll find amazing wildlife, from a fish that change its shape, to deep-sea shockers that light up in the dark. You'll discover even more behind the seaweed and the rocks — lift the flaps to see.
This one has beautiful illustrations and fun lift-the-flap pages. Nice sturdy board book. It's one of my daughters' favorites!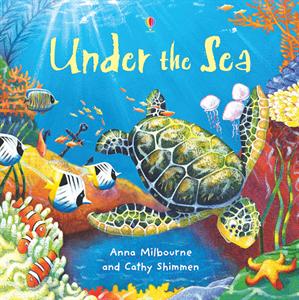 Under the Sea:
Have you ever wondered what's under the sea? Dive beneath the waves and discover bustling fish, a singing whale and twinkling creatures of the deep.
Same title, different book. This one is also beautifully illustrated, but no lift-the-flaps.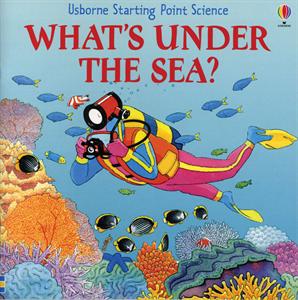 What's Under the Sea?
Shipwrecks, fish, whales and sharks, tunnels, cables and coral reefs – these are just some of the topics in this bright, colorful book. With maps and pictures, it shows the seas of the world and their wildlife, and describes how the sea provides us with fish and minerals. Diagrams and cutaway pictures show an oilrig, diving gear, submarines and other equipment for exploring the seabed, and explain how they work.
This has more details so could work for an older child, too.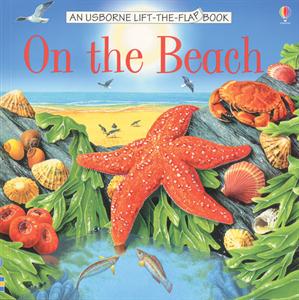 On the Beach
Lift the flaps in this book to uncover fascinating seashore sights. You'll come across beautiful fish, birds, boats, a lighthouse…and find tiny creatures hidden in the sand and rocks.
This lift-the-flap book has been a favorite since Big Sis was 4 years old. She's going on 12 now and this sturdy book has held up through her two little sisters, too. So colorful, so fun, yet educational. We read this one often before taking a trip to the beach so we can look for neat things like tidal pools, starfish, lighthouses, and other things mentioned in the book.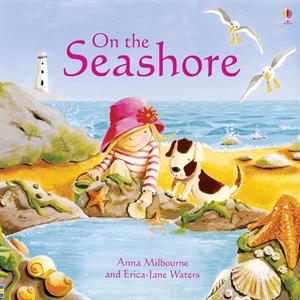 On the Seashore
Have you ever watched the sea creep up the seashore? Here you can discover the wonderful things it leaves behind when it slips away again.
Speaking of tide pools, this book is a cute introduction to them.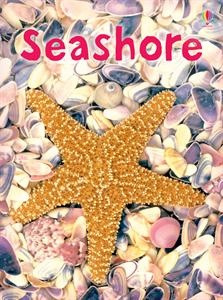 Seashore
This series is designed to provide an informative introduction to non-fiction subjects for young readers. It provides terrific reading practice for children who prefer fact to fiction, and was developed with a reading expert to help young readers grow in confidence.
This one is designed for beginning readers, but it's packed with neat photos and interesting info on the topic of the ocean and beach.
More ocean themed activities to try:
Studying Ocean Life with Delight-Directed Science
Ocean Animals Directed Drawing Pages
Ocean Animals Handwriting Workbook
Do you have some favorite books with an ocean theme? Leave me a comment and let me know!
Read more nature study ideas in this series: