Fall Morning Basket Ideas for Your Homeschool
Want to put together a fall morning basket to welcome the season of cooler, crisper weather? Use these ideas for a fall-themed book basket with activities you can enjoy during your homeschool morning time.
My daughters and I really enjoy a themed morning basket that lets most of our learning resources flow in a fun way with our topic of interest. With that in mind, I brainstormed some ideas for fall to put together morning baskets and I wanted to share them with you to inspire you to create your own!
Fun Fall Morning Basket Ideas
In general, your morning basket would probably include a Bible, a read-aloud chapter book, picture books, living books, and whatever else your family works on daily.
Read more: 100+ Things to Put in a Morning Basket
For fall there are many ideas to add an autumnal touch to your morning basket. Even if you don't want to do an entire study on these topics, including a few items in your morning basket is a great way to touch on the various subjects. You will fall (see what I did there?) for these fall-themed baskets.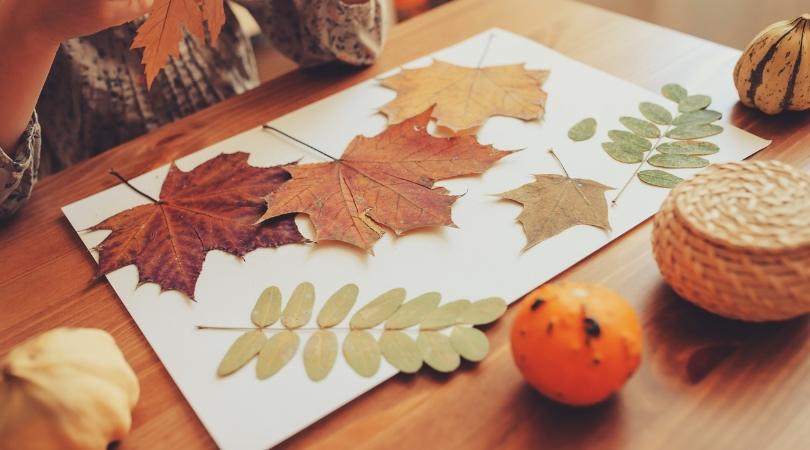 Leaves
Fall is a wonderful time to get into learning about leaves. What makes them turn colors? What makes them fall? What types of trees are in your area? What kinds of trees don't change color?
Include some of these items:
Set your child up with paper and crayons for leaf rubbings, tracing, and then labeling the parts of the leaf.
Fall Bingo would be a great game for the entire season for two or more children.
This fall leaf butterfly craft is absolutely adorable and something my daughters would love to do!
We also like to include seasonal or themed Mad Libs in our morning basket. There's nothing wrong with laughing while you're learning grammar!
Leaf Man
Look What I Did with a Leaf! (Naturecraft)
We're Going on a Leaf Hunt
Red Leaf, Yellow Leaf
Why Do Leaves Change Color? (Let's-Read-and-Find-Out Science 2)
Toaff's Way
Autumn Fall Festival Bingo Game – 24 Players
Gobble Gobble Mad Libs
Apples
Apples make a great fall theme! Include apples for eating, dissecting, using as a stamp, and/or making a pie. Try different apple products every day and compare — fresh apples, apple sauce, apple cider vs. apple juice, apple turnovers, a jar of apple jelly tucked into your morning basket leads to a lovely morning treat! Use this as an opportunity to teach your child how to use an apple peeler properly.
This can be played any time of course but how fun to make it part of an apple basket!
Mattel Apples to Apples Party in a Box Game
Mattel Games Apples to Apples Junior – The Game of Crazy Comparisons (Packaging May Vary)
Apples
Apples, Apples, Apples
How Do Apples Grow?
Goodbye Summer, Hello Autumn
The Seasons of Arnold's Apple Tree
Apples for Everyone (Picture the Seasons)
My Little Golden Book About Johnny Appleseed
An Apple's Life (Watch It Grow)
Apples (Celebrate Fall)
Apples, Apples Everywhere!: Learning About Apple Harvests (Autumn)
Apples and Pumpkins
Peppa Goes Apple Picking (Peppa Pig)
Apple Trees and The Seasons (My Science Library)
Harvest
A great way to learn about fall harvest is to go harvest some of your own fruits and veggies. While you can't pick a fresh carrot out the soil of your basket, you can include a carrot or a gardening tool as a clue for a surprise after morning time. Adding seeds to your basket gives the children an opportunity to explore them as well as invite them to start a small garden.
Harvest Time Game
Games make a great addition to morning time and this Harvest Time game looks super cute and fun, especially for the preschool to the middle elementary crowd.
Add in a few favorite books and you can cover the harvest time!
We Gather Together: Celebrating the Harvest Season
Farmer Boy (Little House)
Strega Nona's Harvest
Family Pastimes Harvest Time – A Co-operative Game
Pumpkins
Include a pumpkin scented candle, mini pie pumpkins for exploring, pumpkin muffins, homemade pumpkin spice playdough. Include a pie tin with a note that later you will be making a pumpkin pie together. Cut open a pumpkin and scoop out the seeds, then roast the seeds.
There are lots of great books about pumpkins, but here are a few of our favorites:
From Seed to Pumpkin (Let's-Read-and-Find-Out Science 1)
Seed, Sprout, Pumpkin, Pie (Picture the Seasons)
The Pumpkin Book
Pumpkin Jack
How Many Seeds in a Pumpkin? (Mr. Tiffin's Classroom Series)
Pumpkins (First Step Nonfiction _ Plant Life Cycles)
Pumpkin Circle: The Story of a Garden
The Biggest Pumpkin Ever
Too Many Pumpkins
From Seed to Pumpkin (Welcome Books: How Things Grow)
Apples and Pumpkins
It's Pumpkin Day, Mouse! (If You Give…)
How Big Could Your Pumpkin Grow?
Biscuit Visits the Pumpkin Patch
Pick a Circle, Gather Squares: A Fall Harvest of Shapes
P Is for Pumpkin: God's Harvest Alphabet
A Pumpkin Prayer (Time to Pray)
Pumpkins (Celebrate Fall)
Bats
I have to admit that bats creep me out, but they are pretty fascinating creatures. It's fun to include a bat study in the fall and there are several things you can add to your basket to swoop into bats. Provide wood and tools for building your own bat house, have black paper and other craft supplies handy for making bats and then label them. Pop in a package of black clay for busy hands to craft while you read aloud.
Instead of labeling the bat parts on a worksheet, try using a realistic plastic bat and letting your child identify them that way.
Safari Ltd Incredible Creatures Brown Bat
Safari Ltd Incredible Creatures Townsend's Big-Eared Bat
Stellaluna 25th Anniversary Edition
National Geographic Readers: Bats
DK Readers L1: All About Bats: Explore the World of Bats! (DK Readers Level 1)
Zipping, Zapping, Zooming Bats (Let's-Read-and-Find-Out Science 2)
Bats: Beautiful Pictures & Interesting Facts Children Book About Bats (Animals Knowledge Series)
My First Book About Bats: Book about bats for kids
Bats (Our Wild World)
Bats: An Illustrated Guide to All Species
Thanksgiving
Even if you take a break from homeschooling around this time you may still be doing a morning basket. Include a few family recipes on handwritten cards, a few spices to smell and use for cooking/baking.
Cut leaves from paper and take turns writing and then reading things that you are thankful for. Put some fall colored cloth napkins in your basket and practice folding them for Thanksgiving Dinner.
A Lego Turkey is ideal for keeping small hands busy while you read one of the great books below:
LEGO 40273 Turkey Brick Headz
LEGO Thanksgiving Turkey, 40091, 125 Pieces
LEGO Seasonal Thanksgiving Feast (40123)
LEGO Seasonal Set Fall Scene (40057)
Thanksgiving on Thursday (Magic Tree House #27)
Pilgrims: A Nonfiction Companion to Magic Tree House #27: Thanksgiving on Thursday
First Thanksgiving Sticker Activity Book (Dover Little Activity Books Stickers)
Color by Number for Kids: Thanksgiving Coloring Activity Book for Kids: A Thanksgiving Childrens Coloring Book with 25 Large Pages (kids coloring books ages 4-8)
Thanksgiving Activity Book for Kids Ages 4-8: A Fun Kid Workbook Game For Learning, Coloring, Dot to Dot, Mazes, Word Search and More!
Gobble Gobble Mad Libs
Thanksgiving Activity Book: Coloring Pages, Word Puzzles, Mazes, Dot to Dots, and More (Thanksgiving Books)
Thanksgiving Activity Book for Kids: Mazes, Coloring and puzzles for kids ages 4-8
Thanksgiving Activity Book for Kids Ages 4-8: A Fun Kid Workbook Game For Learning, Coloring, Dot to Dot, Mazes, Word Search and More!
The Very First Thanksgiving Day
The Pilgrims' First Thanksgiving
Squanto's Journey: The Story of the First Thanksgiving
What Was the First Thanksgiving?
The First Thanksgiving (Picture Puffin Books)
If You Were a Kid at the First Thanksgiving
The Story of the Pilgrims (Pictureback(R))
Include one or more of these fun fall morning basket themes to your day and extend the autumn learning and the fun.
You might also like to read:
Our Christmas Homeschool Morning Basket
What to Include in a Thanksgiving Morning Basket
100+ Things to Put in a Morning Basket
How to Use a Morning Basket to Simplify Your Homeschool
20 Fall Sensory Bins for Fun and Learning
Fall Books and Activities for Homeschool Preschool
Fall Bucket List for Homeschoolers