100+ Things to Put in a Morning Basket
If you're new to homeschool morning baskets or you're just looking for some inspiration, here are 100+ things to put in a morning basket.
Our morning baskets have become one of our favorite things about homeschooling. The time we spend together learning and talking and reading is a real treat for this introverted homeschool family. We can dive deeper into the things we really care about and linger over our thoughts.
Confession: I'm not a morning person.
Another confession: Our morning baskets don't always happen first thing in the morning, though that's usually the way we do it. We do have occasional afternoon, evening, or even bedtime baskets.
One more confession: It's okay to call it a morning basket or morning time anyway. Or afternoon time. Or together time. Or whatever works for your family!
Our morning basket has become the heart of our homeschool. We tend to cover these things in our learning together time:
Art
Music (this includes composers and hymns)
Bible
Geography
History
Read-Alouds
Educational Games
Journaling
Nature Study
Copywork/Memory Work/Poetry
Notebooking/Lapbooking
Critical Thinking Skills
In spite of the age differences (my daughters are 9, 11, and 16), we've found ways to study these things together and it has enriched us as a family.
Note: We don't cover every single thing every single day. We're very relaxed around here and enjoy delight-directed learning, so we tend to follow rabbit trails.
I also want to credit two of my favorite homeschooling mentors, Pam Barnhill and Sarah Mackenzie for helping me to develop this idea of morning time in our homeschool. I had tried to implement these ideas just by instinct with my girls when I found these two ladies who really guided me to visualize what I wanted from morning time in our homeschool. They gave me the confidence to put it into practice! I've had the pleasure of talking with Pam Barnhill and she is so smart and so generous with her knowledge. If you don't have it yet, you need her book Better Together. I also recommend Sarah's book Teaching from Rest. Both made me feel so much less alone in this homeschool journey and confirmed to me that I was on the right track.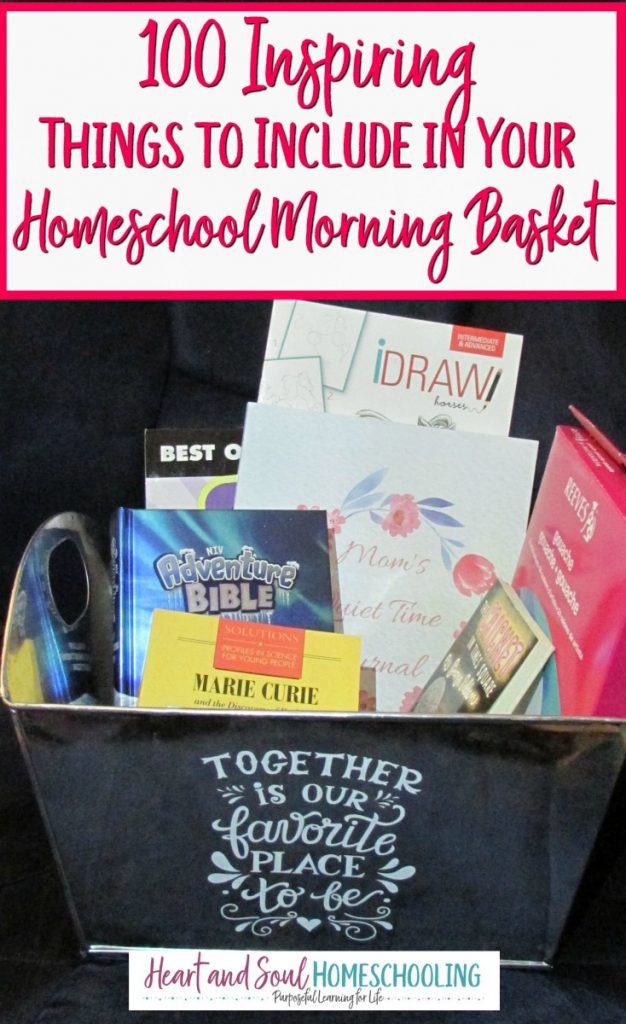 100+ Things to Put in a Morning Basket
There are already over 100 things listed here, but the list will continue to grow as we find new treasures to add! Be sure to bookmark, save this post on Pinterest, or share on Facebook so you can remember to come back to it again.
Art
The Art Book: Big Ideas Simply Explained by DK
Chalk Pastels series of lessons — these are great for any age or skill level with lots of different topics to choose. My girls love these! Space, American Landmarks, Seasons, and more!
The Drawing Book for Kids: 365 Daily Things to Draw, Step by Step
We keep our Crayola Inspiration Art Case, sketch books, chalk pastels, and paints (watercolor and gauche) handy for morning time.
Music
SQUILT — composer studies with Super Quiet Uninterrupted Listening Time. Even if you're not familiar with classical music or famous composers, this study makes it easy.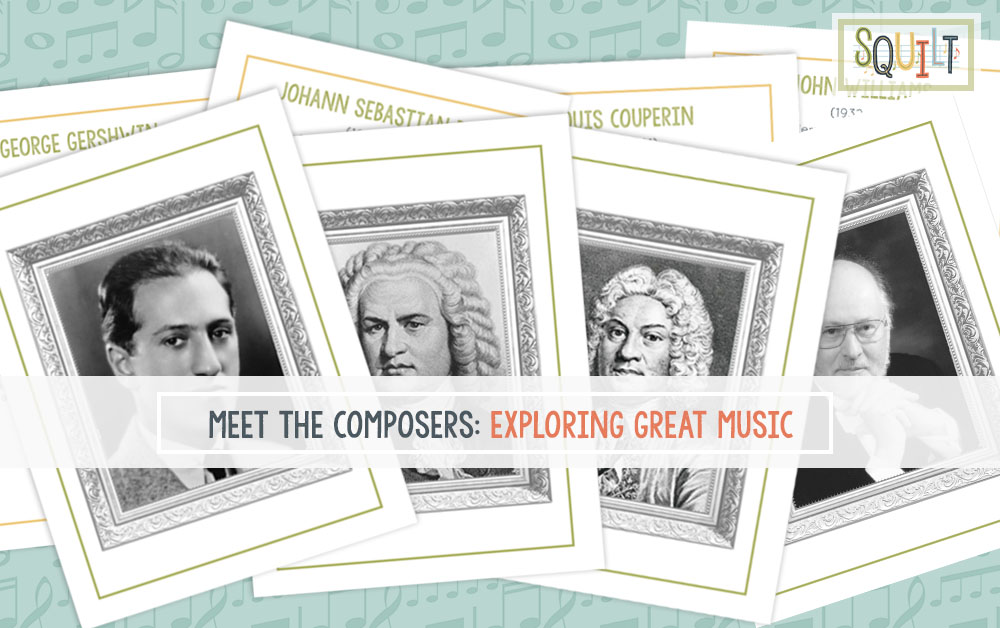 The Classical Music Book: Big Ideas Simply Explained by DK
Maestro Classics series of CDs — great classical music to listen to with great stories to go with it.
Story of the Orchestra: Listen While you Learn about the Instruments, the Music, and the Composers (book comes with CD)
A Young Scholar's Guide to Composers from Bright Ideas Press
Timeless Hymns for All Ages is a lovely study of six favorite hymns:
What a Friend We Have in Jesus
The Old Rugged Cross
It is Well with My Soul
Take My Life and Let It Be
Amazing Grace
Blessed Assurance
You can cover music, Bible, copywork, memory work, and history all with this one study!

Bible
The One Year Mother-Daughter Devo by Dannah Gresh — we read devotions from this book together and talk about Biblical life application.
Adventure Bible (NIV): Polar Exploration Edition
The Bible Explorer's Guide: 1000 Amazing Facts and Photos
Indescribable: 100 Devotions for Kids about God and Science by Louie Giglio
Bible Infographics for Kids: Giants, Ninja Skills, a Talking Donkey, and What's the Deal with the Tabernacle?
Case for Christ for Kids by Lee Strobel
Case for Faith for Kids by Lee Strobel
Case for a Creator for Kids by Lee Strobel
Case for Grace for Kids by Lee Strobel
Fearless Faith: 100 Devotions for Girls by Melanie Shankle, for ages 8 and up, includes a verse, encouragement, and activity and/or questions to apply
You're God's Girl! A Devotional for Tweens by Wynter Pitts
Geography
U.S.A. State-by-State Geography Notebook — this includes notebooking and coloring pages for each state with information about the capital, the state bird, state flower, and more.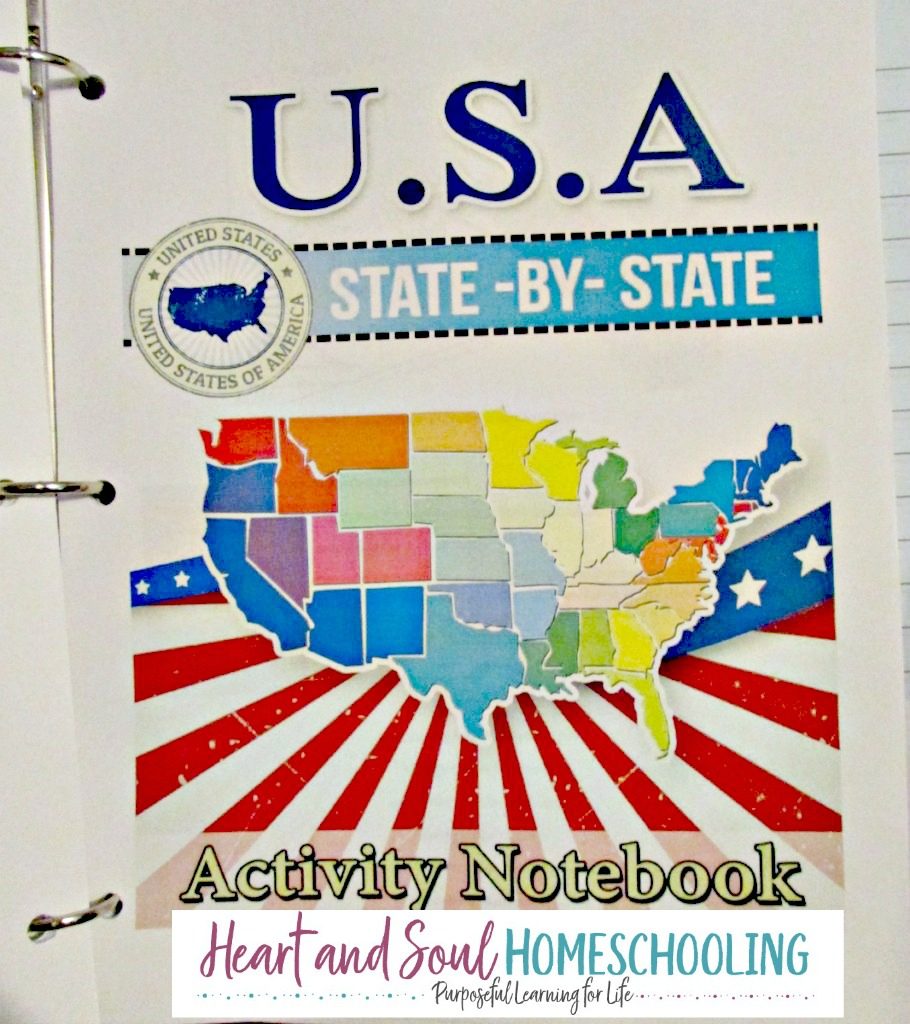 Flags of the U.S. States flash cards
History
History through the Ages timeline project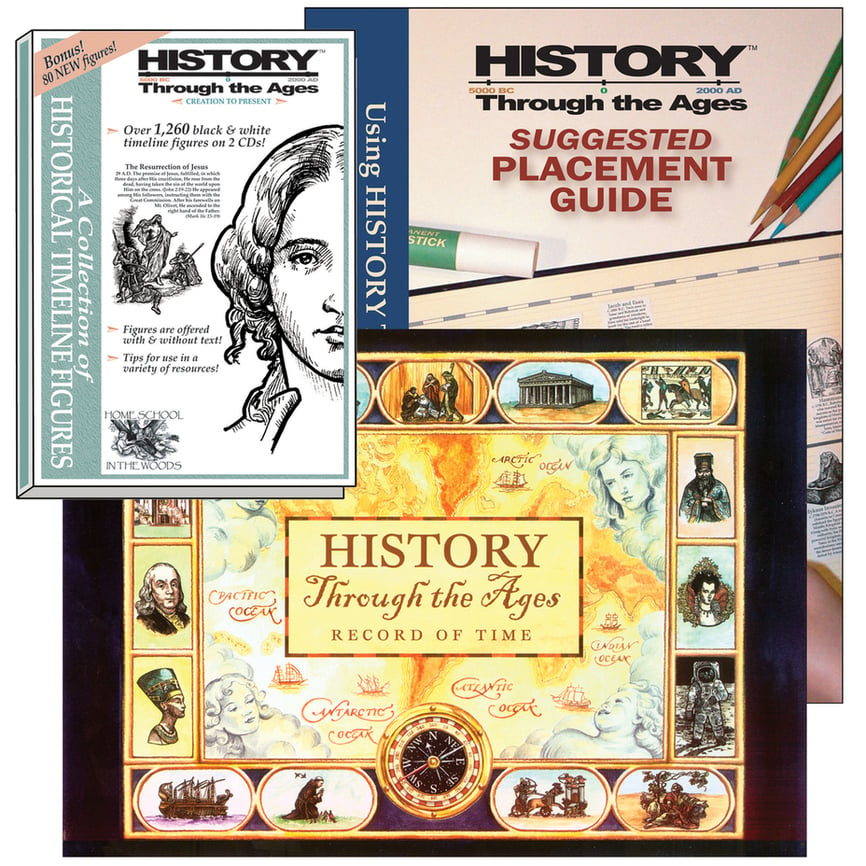 Read-Alouds
Audio books and stories — we listen to Adventures in Odyssey, Jonathan Park, Your Story Hour, and the Brinkman Adventures to name a few. Librivox has some good choices for free audio books.
HarperCollins Treasury of Picture Book Classics: A Child's First Collection
Make Way for McCloskey: A Robert McCloskey Treasury
The Narnia Chronicles by C.S. Lewis
The Little House series by Laura Ingalls Wilder
The Anne of Green Gables series by L.M. Montgomery
Pride and Prejudice by Jane Austen
Christy by Catherine Marshall
A Man Called Peter by Catherine Marshall
The Story Girl series by L.M. Montgomery
The Book of Virtues: A Treasury of Great Moral Stories by William J. Bennett
Betsy Tacy series by Maud Hart Lovelace
The Little Women series by Louisa May Alcott
Caddie Woodlawn by Carol Ryrie Bank
All-of-a-Kind Family series by Sydney Taylor
Leah's Pony by Elizabeth Friedrich
The Secret Garden by Frances Hodgson Burnett
A Little Princess by Frances Hodgson Burnett
Obviously, I could go on and on with wonderful read-alouds to include, but these are a few of our favorites. You can find more of our favorite books in these posts:
10 Chapter Books Chosen by a 10 Year Old
101 Books Every Girl Should Read
Our Favorite Caldecott Honor Books
List of classics by grade level with free printable pdf guide
I also recommend the Read-Aloud Family by Sarah Mackenzie for more ideas.
The Read-Aloud Handbook by Jim Trelease is a highly recommended classic guide, as well.
Educational Games
Presidents of the United States Card Game
Geography of the United States Card Game
Monkey Fractions Interactive Fractions Card Game
BrainBox for Kids Nature Card Game
MindWare BrainBox All Around the World Trivia
BrainBox for Kids World History Card Game
Professor Puzzle Great Minds Set of 5 wooden puzzles (comes in historical women or men sets)
Countries of the World Card Game
Ancient Civilizations Card Game
Solar System Objects, Stars, and Galaxies flash cards
Elements of the Periodic Table flash cards
88 Astronomical Constellations flash cards
Wonders of the World Card Game
History of the United States Card Game
Professor Noggin's History of Art Trivia Card Game (more appropriate for middle school and up)
Professor Noggin's Explorers Card Game
Professor Noggin's National Parks Card Game
Mad Libs — there are many to choose from and they're a fun way to learn grammar!
Copywork/Memory Work/Poetry
Poetry for Kids: William Shakespeare
Poetry for Kids: Emily Dickinson — 35 poems, divided into sections by season, grade 3 and up
Poetry for Kids: Robert Frost — includes 35 poems chosen for ages 8-14
Poems to Learn by Heart by Caroline Kennedy — beautiful watercolor paintings are paired with poems that children will appreciate and memorize. Poems for any occasion!
Poetry for Kids: Carl Sandburg — you might guess by now that I enjoy this series of Poetry for Kids. They include definitions of key words, a bit about each poet's life, and provide a gentle introduction to classic poetry.
The 20th Century Children's Poetry Treasury
Read-Aloud Rhymes for the Very Young
Fruit of the Spirit copywork and memorization printables
Journals
Reflective Journal for Homeschool Moms
My Kid's Prayer Journal: 100 Days of Prayer and Praise
My Purposeful Plans Goal Tracking Journal
Everyday Gratitude: A Thankfulness Journal
Nature Study
NaturExplorers Unit Studies — there are several studies (trees, animals, birds, seasons, and more) in this series that can be used for a wide range of ages.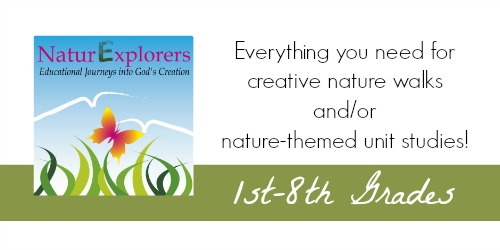 Sibley Backyard Birding Flashcards: 100 Common Birds of Eastern and Western North America
Notebooking/Lapbooking
Lapbooks — the girls can often work on lapbooks together in spite of their age differences. We tend to study historical topics with these as we read aloud living history books, or topics of special interest to all three girls, such as horses or other favorite animals or geographical locations.
Critical Thinking Skills
Mini Mysteries: 34 Tricky Tales to Untangle
A Year of Mini Mysteries: 29 Tricky Tales to Untangle
One Minute Mysteries: 65 Short Mysteries You Solve with Science by Eric Yoder
One Minute Mysteries: 65 More Short Mysteries You Solve with Science by Eric Yoder
One Minute Mysteries: 65 Short Mysteries You Solve with Math by Eric Yoder
I do rotate resources frequently, depending on our progress and what our interests might be at the moment. This is also when I include themed books and studies for the season or holidays.
I hope these 100+ things to put in a morning basket have inspired you to try this in your homeschool!