Fall Books and Activities for Preschool
Homeschooling preschool in the fall can be so much fun! It's a great time to do simple fall crafts, go on a nature walk, do a fun nature scavenger hunt, and read fall themed books for preschoolers like the ones below. Your kids will not only be learning, you'll be making great memories together and encouraging a lifelong love of learning!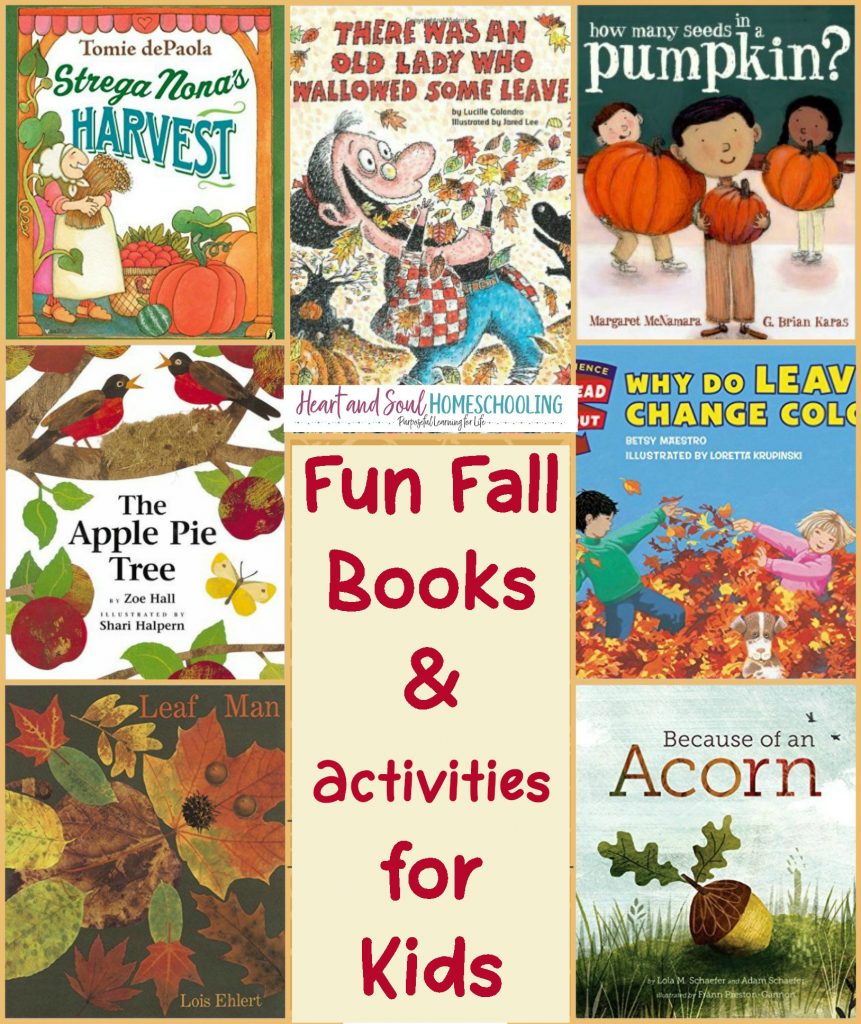 Fall is a rich wonderful time of year to teach and explore with your preschooler. Luckily there are tons of paths and studies you can take as well as endless resources and books to enhance the fall learning experience. I have gathered some of my favorite fall books here to get you started as well as some ideas for fall studies. Everything from apples to pumpkins and acorns to fall leaves make great simple studies for preschoolers.
Before you get started with these fall books and activities, you'll also want to check out and download the free seasons printable booklet from my friend Heather at Books and Giggles. Remember to grab this free printable fall pack for preschool.
Don't miss the preschool pumpkins unit study available at Homeschool Helper Online, too! Unit studies like this are a fun way to learn together around a theme.
You'll also want to take a look at these storybook pumpkin ideas to inspire you while decorating a pumpkin. There are so many clever ideas to try!
Fall Books & Activities for Homeschool Preschool
There Was an Old Lady Who Swallowed Some Leaves– This entire series is just so cute and really lends itself well to a lot of activities and projects. It is a must add title to your bookshelf!
Why Do Leaves Change Color?– The Let's Read and Find out Science books are some of my favorites. They manage to be both a textbook and also entertaining and engaging at the same time- what you may call a living book.
Leaf Man– This is a great one to get the creativity going, use it to inspire your little one to collect leaves on your nature walk and create a fun art piece.
The Apple Pie Tree– This colorfully illustrated book teaches the life cycle of an apple tree and ends with an apple pie at the end (recipe included!).
Strega Nona's Harvest– Strega Nona has been around awhile and this is one of the follow up stories to the original – a sweet story book about seeds, compost, planting, and following directions.
Because of an Acorn– In simple text and pretty pictures this tells the story of an acorn and all the the effects that occur when that acorn grows into a tree.
How Many Seeds in a Pumpkin?– A great way to explore skip counting and estimation.
Ideas to supplement your Fall Preschool Studies
Take a trip to the pumpkin patch – Bring along a pad to sketch pictures and a measuring tape to measure the height, width, and circumference.
Observe the color, size, and shape of different apple varieties.
Cut several different varieties of apple open and have a taste test.
Gather acorns, leaves, sticks, and pinecones on a nature walk, bring them home to observe, place them on a shelf designated for finds.
Cut open a pumpkin – count the seeds, feel the insides, bake pumpkin seeds.
Make collages from crisp fall leaves you find.
Create art with pinecones, observe how they open and close.
Check out this fun fall bucket list for kids and these fall morning basket ideas for even more activities!
Looking for a few more ideas to keep your preschooler busy as the weather turns crisp?
Try these printables for coloring and handwriting practice: Fall A-Z Alphabet Tracing and Coloring Book.
Learn all about acorns with these printable activities!
Try these Corn Cob Counting Math Mats from Modern Preschool.
Or these Marble Painting Pumpkins at Cutting Tiny Bites.
Glued to My Crafts has these adorable Popsicle Stick and Leaf Foxes.
Your littles will love these Color by Number Leaves!
Practice letters and sight words using the Autumn Sensory Writing Tray from The Imagination Tree.
This great Apple Stamping Craft would make an adorable piece of art hanging up in the fall.
You will be a cool mom for sure when you break out Parenting Chaos's Pinecone Simple Science.
What are you studying this fall?