The Most Important Questions to Ask at the End of the Homeschool Year
Is your homeschool year coming to an end? Even if you homeschool year-round, a time of reflection and review is always helpful. Read on for ten important questions to consider at the end of your homeschool year.
Whether you choose to homeschool year-round or follow a more traditional school schedule, this tends to be the time for yearly assessments and wrap-ups. In many cases, it also means submitting paperwork to the school district, depending on your state laws. Amidst all the reviewing, evaluating, and measuring up, it's important to remember that homeschooling is more than just checking off things on an academic to-do list. It's also about building close relationships with your children and nurturing their unique abilities and personalities. So what are the most important questions to ask at the end of the homeschool year?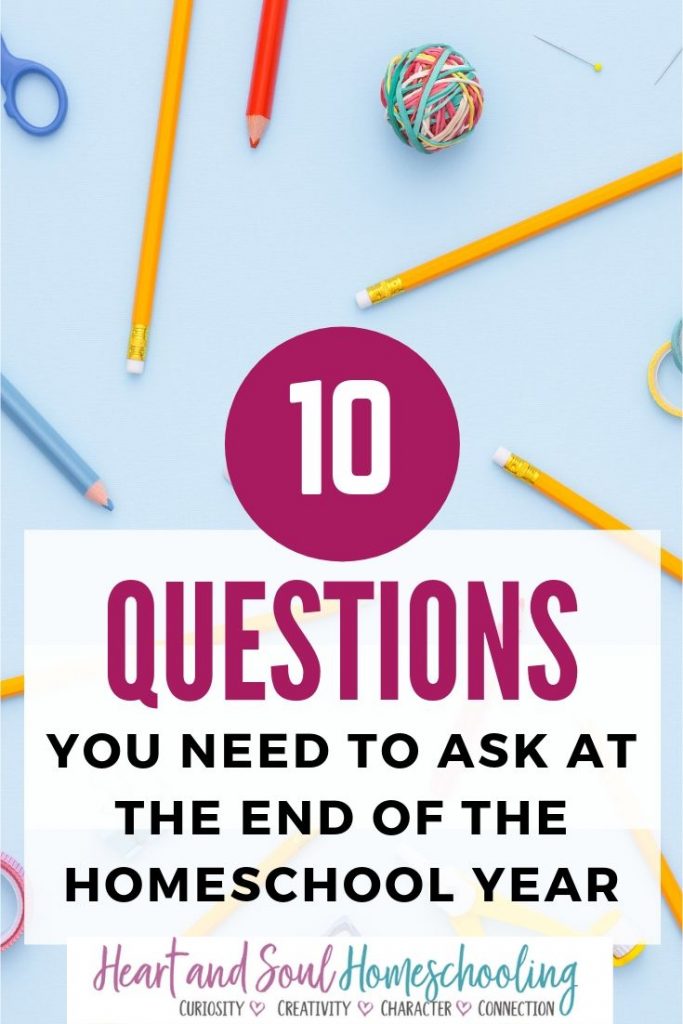 Ten Questions to Ask at the End of the Homeschool Year
Here are five questions to ask your kids at the end of the school year that you won't find on any official forms or checklists:
What is the most memorable moment from this past year?
What are you most happy about accomplishing this year?
What was your favorite book this year and why?
What five adjectives would you use to describe this year?
What are your top three favorite or most important things you learned this year?
Let them write out their answers if they want to include them in a yearbook or portfolio for the year. These can be fun to look back on in future years. If your kids are too young for that, just ask the questions and write down their answers for them.
Now, here are five questions you should ask yourself as the homeschool parent:
What changes do you notice in your child? You'll want to remember physical, developmental, and character changes as they learn and grow.
How has your own approach to homeschooling changed over the past year?
What do you need to do to prepare for next year? This could be something tangible like buying curriculum and supplies or more intangible like adjusting expectations or relaxing.
What worked well this year?
What do you need to change for next year?
These questions can hopefully spark some great conversations between you and your kids and show you even more than any test score. They will also give you a good springboard to start fresh in your new year when you're ready to begin again.
What would you add to this list?
Recommended for you:
Homeschool Portfolio: Versatile Journal for Record Keeping and Reporting
Homeschool Portfolio: Everything you need to record your year
Portfolio of My Homeschool: 12 Months of Record Keeping and Planning (Portfolios to Remember) (Volume 1)
The Thinking Tree – 10 Subject Portfolio: 1 Year Plan – Illustrated For All Ages – Home, Library & Internet Based Curriculum Handbook & Study Guide
The Thinking Tree ~ 12 Subject Portfolio – Home, Library & Internet Based Curriculum Handbook & Study Guide: A High Level Learning Plan for Organized Home Education
The Eclectic Homeschooler's Plan Book: Planner and Organizer – A 180 Day Plan (180 Days of Delight Directed Homeschooling for Eclectic Families) (Volume 2)