A Storybook App with a Hero for Kids on the Autism Spectrum: The Mighty League, Vol. 1
E-books are fairly new to me, especially any kind of interactive storybook for kids, so I was glad to try out The Mighty League, Vol. 1: The Terrible Taunting Storybook APP for the Kindle.  Not only is it cool technology and fun for my daughters, it features a hero who happens to have Asperger's Syndrome.  Since we know from personal experience about life on the autism spectrum, I really wanted to see what this storybook was all about.
DESCRIPTION | The adorkable JMan and his plucky hedgehog sidekick, Mr. Redge are the unstoppable, secret superhero team who save a classmate from the poking pranks of Dr. Evil Touch! Join this quirky duo on their quest to stop a bully, make the school playground a peaceful place, and more importantly, make a new friend who likes crime fighting, capes and karate, too. Discover JMan's hidden notebook on each page about what it's like to be an Aspie.
ABOUT THIS APP | This INTERACTIVE storybook app is based on the real JMan, Jonathan Murphy, and his REAL LIFE adventures growing up with ASPERGER'S SYNDROME. Written by his sister, Molly Murphy, and narrated by Jonathan, the story is told by someone who sees his world from a very unique perspective. It promotes SELF-ACCEPTANCE, AWARENESS, and an UNDERSTANDING for others who are different.
For ages 5 – 11
Special Features
– You can change the superhero, JMan, into super-heroine, Jaycee.
– Touch Mr. Redge on every page and a SECRET NOTEBOOK pops up with age-appropriate information on Aspergers Syndrome, being different, and bullying.
– Over 70 INTERACTIVE SOUNDS AND ANIMATIONS —including capes waving, speech bubbles, character movements, and more.
– Original "I'm Unique, I'm a Geek" THEME SONG by award-winning children's performing artist, AndyZ.
– Easy to use navigation, customization, and page turning effects.
– Narration with word highlighting, self-read, or record your own narration options.
As a mom of a child on the autism spectrum, I feel this kind of tool is vital to increasing awareness and removing the stigma from the subject of special needs. This book brings attention to the topic of bullying, something that seems to be unavoidable in today's society for all age groups. My daughters enjoyed customizing this app (of course they chose to make the main character a girl) and finding the hidden objects throughout the book. They went back and tried all the options so they have read the book several times now. Installation and download on the Kindle was simple and quick. My daughters want to know if there will be more books in this series because they enjoyed the story and the format.  I personally like the positive image of a hero/heroine living successfully with ASD.
Geek Club Books is celebrating the debut of their Mighty League Book App series with an iPad Mini Giveaway!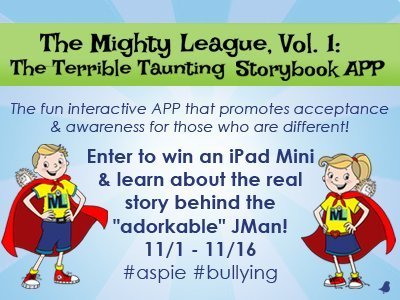 One winner will receive:
A brand new iPad Mini
The Terrible Taunting Storybook App by Geek Club Books
Enter today by clicking one of the icons below. But hurry, the giveaway ends on November 16th. Winner will be announced November 18th at Geek Club Book's blog.


Don't miss a moment of the fun; enter today and be sure to stop by Geek Club Book's blog on the 18th to see if you won. (Or, better yet, subscribe to their blog and have the winner announcement delivered to your inbox!)