Discipling our Daughters: Words of Life
Today I'd just like to share 15 of my favorite encouraging Bible verses as we lead our daughters in discipleship.  These are words of life that we can memorize and teach to our daughters, as well as turn to for inspiration.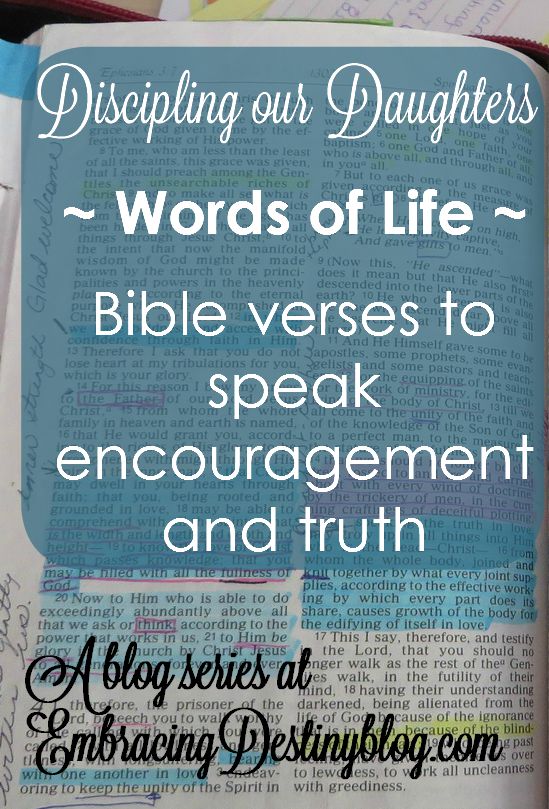 Words of Life
For encouragement in faith and motherhood . . . 
Finally, brothers and sisters, whatever is true, whatever is noble, whatever is right, whatever is pure, whatever is lovely, whatever is admirable—if anything is excellent or praiseworthy—think about such things. Phil. 4:8
Love the Lord your God with all your heart and with all your soul and with all your strength. These commandments that I give you today are to be on your hearts. Impress them on your children. Talk about them when you sit at home and when you walk along the road, when you lie down and when you get up.   Deuteronomy 6:5-7
Start children off on the way they should go, and even when they are old they will not turn from it.  Proverbs 22:6
The fear of the Lord is the beginning of wisdom;
all who follow his precepts have good understanding.
To him belongs eternal praise.
Psalm 111:10
So whether you eat or drink or whatever you do, do it all for the glory of God.
1 Corinthians 10:31
I have no greater joy than to hear that my children are walking in the truth. 3 John 1:4
Above all, love each other deeply, because love covers over a multitude of sins. 1 Peter 4:8
On modesty and self-image . . .
Charm is deceptive, and beauty is fleeting; but a woman who fears the Lord is to be praised.  Proverbs 31:30
Your beauty should not come from outward adornment, such as elaborate hairstyles and the wearing of gold jewelry or fine clothes. Rather, it should be that of your inner self, the unfading beauty of a gentle and quiet spirit, which is of great worth in God's sight.  1 Peter 3:3-4
Like a gold ring in a pig's snout
is a beautiful woman who shows no discretion.
Proverbs 11:22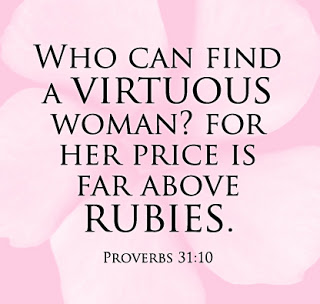 But the Lord said to Samuel, "Do not consider his appearance or his height, for I have rejected him. The Lord does not look at the things people look at. People look at the outward appearance, but the Lord looks at the heart."  Samuel 16:7  
Tomorrow is the last day of the series.  I hope you'll be back to see the list of resources I've gathered to help you as you guide your daughters in discipleship.  Thanks for stopping by.  I appreciate your comments!
To read all 5 days in the series, visit the Discipling our Daughters page.