In Remembrance: Honoring Babies Lost to Miscarriage
Miscarriage is a common, though not often talked about, loss for women. If you're grieving the loss of a pregnancy, I hope these ideas about how to honor your baby's memory after a miscarriage will help.
When I went through my first miscarriage, I felt alone. I didn't realize how many other women experienced pregnancy loss because it just wasn't talked about. It's not a pleasant subject after all, and not one that you share with just anyone. I found that my friends and family weren't sure what to say to me. I wasn't even sure what I needed at the time.
I've lost three babies to miscarriage and it never gets any easier. When it happens, the grief is overwhelming. The sense of loss eclipses the daily routine, even though you have to keep going. One thing that has helped is to find a special way to memorialize those babies that I never got to hold. The grieving process is normal and necessary and shouldn't be ignored. Finding a way to do something special to honor your baby's life, no matter how short it was, is an essential part of grieving.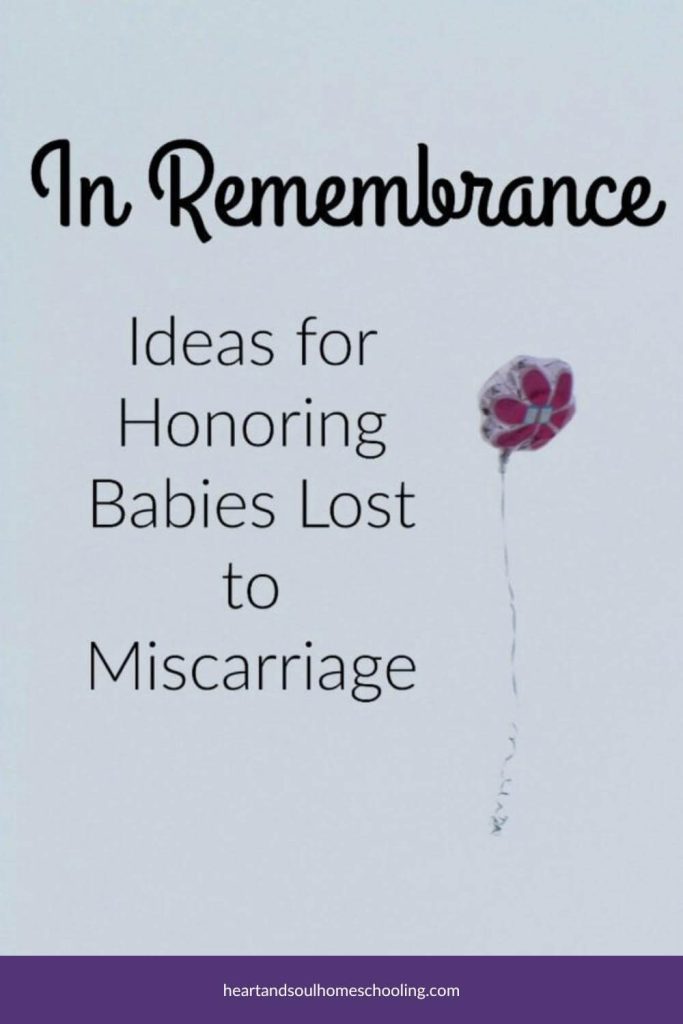 You might find some comfort in these songs about miscarriage because they allow you to grieve and realize you're not alone in this process.
For me, faith has been an essential part of healing. I take comfort in Bible verses for hope and Bible verses that help you through a difficult time. These things remind me that we're loved and that there is a purpose for everything, even when we can't see it.
Mothers who have lost their baby to a miscarriage all feel differently. Some feel sad, some feel angry, and some feel confused. One way to deal with a situation like this is to memorialize the baby. This basically means to do something in honor of the baby that has gone to heaven. If you're looking for a few ways to memorialize a baby lost to miscarriage, here are some ideas.
Memorials for Babies Lost to Miscarriage
1. Release balloons – We did this with one of our losses. I purchased helium balloons along with label stickers. I wrote messages of love, the baby's name, and favorite Bible verses on the labels, then stuck them to the balloons. We then released the balloons one at a time over an open field. We were able to watch them rise high into the air until they disappeared from view.
2. Make a quilt or have one made – Sometimes you just don't know how to memorialize a baby lost to miscarriage. One way hundreds of women have done this is by having a quilt made. If there is a piece of clothing you bought for the baby, you can include that in the quilt.
3. Start a garden – If the weather permits, start a garden or plant a tree or bush. Not only is it a way to memorialize a lost baby, but it's also a way to keep your mind busy amongst the chaos. I planted lilac bushes after my second miscarriage.
4. Talk about your baby – Sometimes a memorial is less about something physical and more about emotions. Talking about your baby with someone who understands is a great way to memorialize a baby lost to miscarriage. Don't pretend like it didn't happen. Talk to those who understand and make your feelings known. Those who are willing to listen are truly your friends. If there are some in your friends or family who are not understanding, it's okay to take a break from those relationships until you're able to handle being around them again. I know that there were some who said hurtful things when I was already hurting, which made things more difficult. Don't be afraid to speak up with your needs.
5. Have jewelry created – Another unique way you can memorialize a baby that has gone before you is by having jewelry created. Jewelry is something unique that you can carry with you wherever you go. You can even make the jewelry yourself if you have something in mind that you want and cannot buy. I made a necklace with letter block beads spelling out my babies' names. A birthstone ring or necklace is another option.

6. Frame the ultrasound – If you were able to get an ultrasound before the miscarriage, find a frame you love. You can frame the ultrasound to remember your baby. You could also have a custom frame made with your baby's name. Due to the timing of most miscarriages, not everyone has an ultrasound. You could used pressed flowers or some other item of significance to you.
7. Name your baby – This really should go without saying, but unfortunately it doesn't. Your baby was a real person who deserves a name. Even if you didn't know the gender, you can select a neutral name or use your gut feelings to decide. You have permission to grieve and name your child in the way you see fit. Some people choose names like Hope, Grace, Faith, or other Biblical attributes.
8. Name a star – You can name a star on the International Star Registry. We did this with our first two babies. Anytime you look to a clear sky and see the star, you can remember your baby.
9. Write it out – Write a poem, a song, or just journal about your loss. Writing is so therapeutic at any time. It can especially be helpful to write your feelings and memorialize your baby's short life through writing.
10. Sponsor a child – Some choose to sponsor a child in need in remembrance of their loss. It can offer hope and encouragement to help another child in the name of the baby you lost.
11. Donate a Bible – We have donated to the Bible League in memory of our babies in heaven. Local churches usually accept Bibles, hymnals, or artwork donated as well.
You can do all of these things, a few, or just one. Only you know what will make you feel better. The important thing is to give yourself time and grace through the process. Your loss is real, even if your baby died before birth. Don't let anyone rush you or invalidate your feelings. Prayer is always at the heart of life, so don't forget that the Lord cares for you and wants to comfort you.
My soul is weary with sorrow; strengthen me according to your word. (Psalm 119:28)
Memorializing a baby lost to miscarriage is less about everyone else and more about you and your healing process.
Is there a specific way you have memorialized a baby lost to miscarriage?