10 Renewing Bible Verses for a New Year
If you've had a hard year and are just ready to start over again, these 10 renewing Bible verses for the New Year will encourage you!
As a New Year approaches, we reflect on the year behind and plan for the year ahead. Maybe some are feeling sad, or have regrets, or feel unworthy. Others might fear what lies ahead. Maybe you're just plain tired and burnt out. Well, the good news is that we serve a God who can make all things new again.
These encouraging Bible verses will inspire you to start again even during tough times!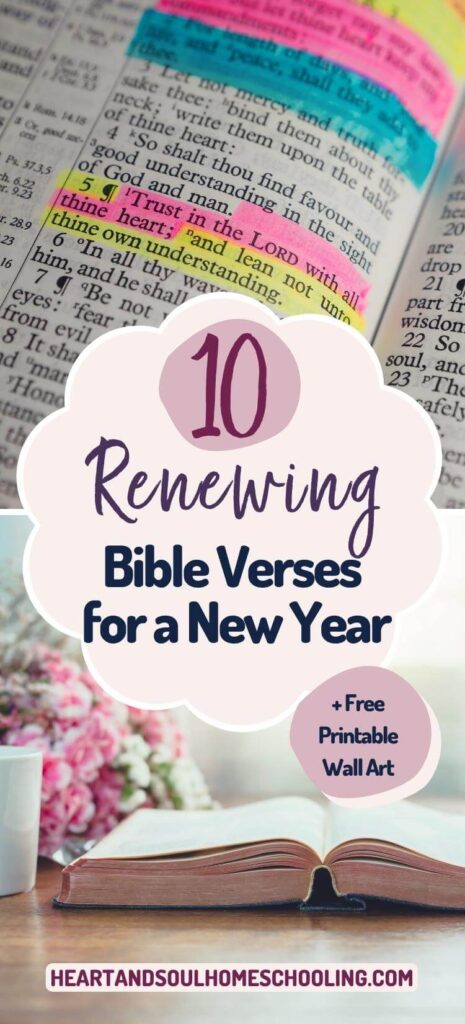 10 Renewing Bible Verses for the New Year
1. 1 Peter 1:3
Praise be to the God and Father of our Lord Jesus Christ! In his great mercy he has given us new birth into a living hope through the resurrection of Jesus Christ from the dead.
2. Psalm 51:10
Create in me a clean heart, O God; and renew a right spirit within me.
3. Ezekiel 36:26
And I will give you a new heart, and a new spirit I will put within you.
4. Psalm 65:11
You crown the year with your bounty, and your carts overflow with abundance.
5. Isaiah 40:31
…but those who hope in the Lord will renew their strength. They will soar on wings like eagles; they will run and not grow weary, they will walk and not be faint.
6. Ecclesiastes 3:11
He has made everything beautiful in its time. He has also set eternity in the hearts of men; yet they cannot fathom what God has done from beginning to end.
7. Ezekiel 36:26-28
I will give you a new heart and put a new spirit in you; I will remove from you your heart of stone and give you a heart of flesh. And I will put my Spirit in you and move you to follow my decrees and be careful to keep my laws. Then you will live in the land I gave your ancestors; you will be my people, and I will be your God.
8. Ezekiel 11:19
I will give them an undivided heart and put a new spirit in them; I will remove from them their heart of stone and give them a heart of flesh.
9. Romans 8:38
And I am convinced that nothing can ever separate us from God's love. Neither death nor life, neither angels nor demons, neither our fears for today nor our worries about tomorrow–not even the powers of hell can separate us from God's love.
10. Revelation 21:5
Then the one seated on the throne said, "Look! I'm making all things new." He also said, "Write this down, for these words are trustworthy and true."
As you can see, God has our best interest in mind. Although we can't always see what He is planning, it's always worked for His glory. I hope you find renewed strength in these verses. Whether it's now or in the New Year, God's word always rings true.
What are your favorite Bible verses for a new year and a new start?
One of my favorite devotionals for daily encouragement:


I highly recommend the Mom Heart Moments daily devotional by Sally Clarkson!
If you want some ideas on how to spend more time in God's word daily, check out this post:
5 Practical Tips to Find Daily Time with God
Need some hope for the hard times? Read the Best Bible Verses for Hope.
Looking for encouragement and Bible verses for tough times? Read 10 Bible Verses to Help You Through a Difficult Time.