How To Create a Homeschool Schedule That Works for You
Need to find a homeschool schedule that will work for your family, but not sure where to begin? Craving structure yet rebelling at the thought of giving up any of your homeschooling freedom? I hear you and I've got some solutions to create a homeschool routine that really works for you!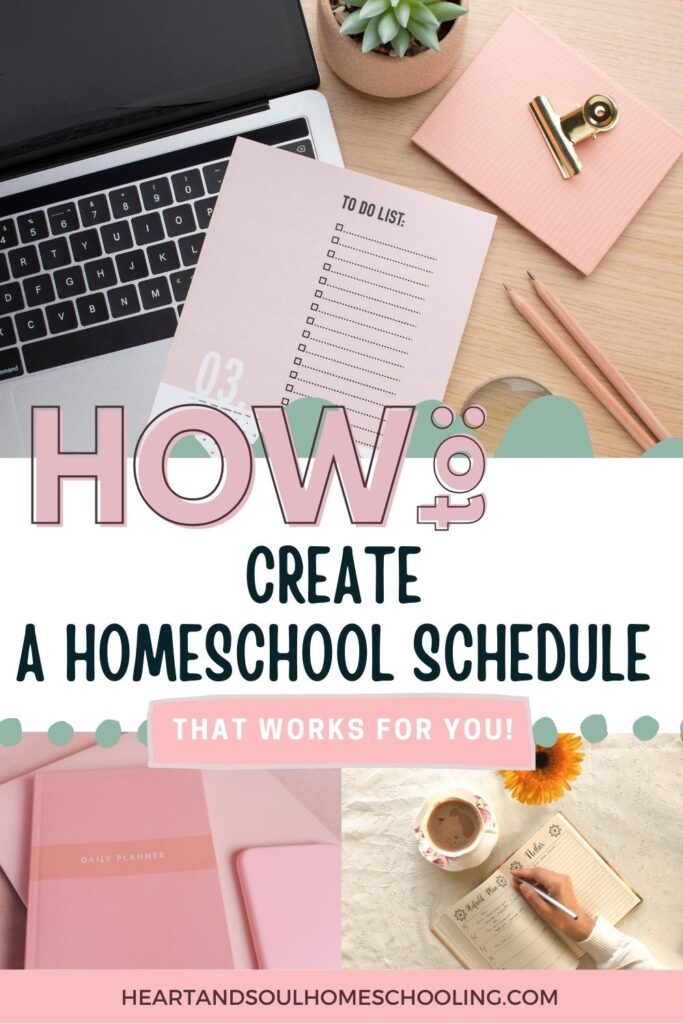 Obviously, homeschooling is very rewarding. Taking personal responsibility for your child's education is a major commitment and you feel pressure because you don't want to "mess it up." That feeling is often times at war with your desire to embrace the freedom of homeschooling. I've been there myself.
Can we agree that public school at home isn't your goal? You don't need a bell to ring and tell you what time to start and stop learning or to artificially switch subjects midstream. So how can you have a sense of structure and purpose without rigid time tables to follow?
Whether you homeschool year-round or try a 3 day homeschool week, here are several tips that can help with your homeschool schedule — and that might save a few headaches at the same time.
How To Create a Homeschool Schedule That Works for You
Discover your golden hours.
Homeschooling opens up more flexibility with the day for both you and your children. If it's a fight to do school at the traditional 8 a.m. time every morning, try starting at 9 or 10, after you've all had a restful night's sleep and a good breakfast. You don't have to force yourself or your children to be morning people if you're not. Trust me on this one.
Trying to homeschool when a child is not alert will take you nowhere, besides a lot of frustration for yourself. If that means you do schooling in the afternoon or evening, due to other scheduling conflicts, that's okay. Every day does not have to be at the same set time. Embrace the flexibility of working when it suits you best. Hint: that may vary through the years depending on the ages and personalities of your children, too. Be willing to adjust.
Write down priorities.
If you're intent on setting priorities, write them down. The things you write down are the things that tend to get done. Share them with your kids in age appropriate ways. Everyone likes to have a finish line to strive for, even if you're a relaxed homeschooler. This will also help you on the days when you feel like you didn't get anything done — you can see that you met your basic priorities and feel better about your efforts.
Having priorities rather than a strict schedule also allows more free time to pursue passion projects and interests for both you and the kids. Priorities also have a lot to do with your overall homeschool vision, a topic near and dear to my heart. It's why I put together the Purposeful Homeschooling: Cultivating Your Homeschool Vision workbook.
Set a goal for each child to reach.
Goal setting is a very personal thing, in my opinion. You could set goals for each week and quarter, or set goals that each student needs to meet in order to move onto the next level. I also created a goal tracking journal to help you when you want something more free-flowing than a calendar grid. You can track your goals in a narrative format with My Purposeful Plans Goal Tracking Journal.
Routine vs. Schedule.
While I don't advocate for having a strict schedule with times, I think routines are very helpful. Charlotte Mason talks about the formation of habits. These habits and routines will serve your children well through their entire lives. These are the kinds of routines that encourage a lifelong love of learning and taking responsibility for their own education.
There are benefits to a homeschool loop schedule or block schedule. There are options for following a traditional school year calendar, semesters/quarters, a calendar year, or year-round homeschooling. If you're unsure what will work for you, don't be afraid to do some trial and error to find your groove!
Work with breaks.
Whatever schedule or routine you choose, be sure to work in time for breaks. Breaks during the day, breaks throughout the schedule to pursue interests, breaks for a change of scenery like field trips, breaks to play and discover and be creative!
Remember that we're not trying to replicate school at home. We don't need to force our kids to work for 6 hours straight while sitting at a desk. That's a recipe for burnout for both mom and kids.
You don't need to do every subject every day.
This is part of the beauty of relaxed, delight-directed homeschooling. It can also be part of a looping schedule for those who need more structure to their days.
Get the right tools (and actually use them).
The most beautiful, perfectly designed planner isn't going to work if you never actually use it. Just like that ideal curriculum that's gathering dust on your bookshelf right now. No judgment from me on this topic, by the way. Consider it a gentle reminder.
Some tools that might help you:
Daily Checklists for Kids, available in 3 different styles
A Simple Plan for the Homeschooling Family, undated so you can use it anytime
A Simple Plan, student version
A Homeschool Schedule that Will Work for You
So these are some of my basic tips for creating a homeschool schedule that works for you, along with some of the tools I find very valuable in making that schedule actually work. Please feel free to share your tips in the comments!