Journaling Ideas for Moms
These journaling ideas for moms are meant to be a springboard to a creative, relaxing, and fun hobby for busy moms. There's no wrong way to journal, so don't be afraid to start and express yourself.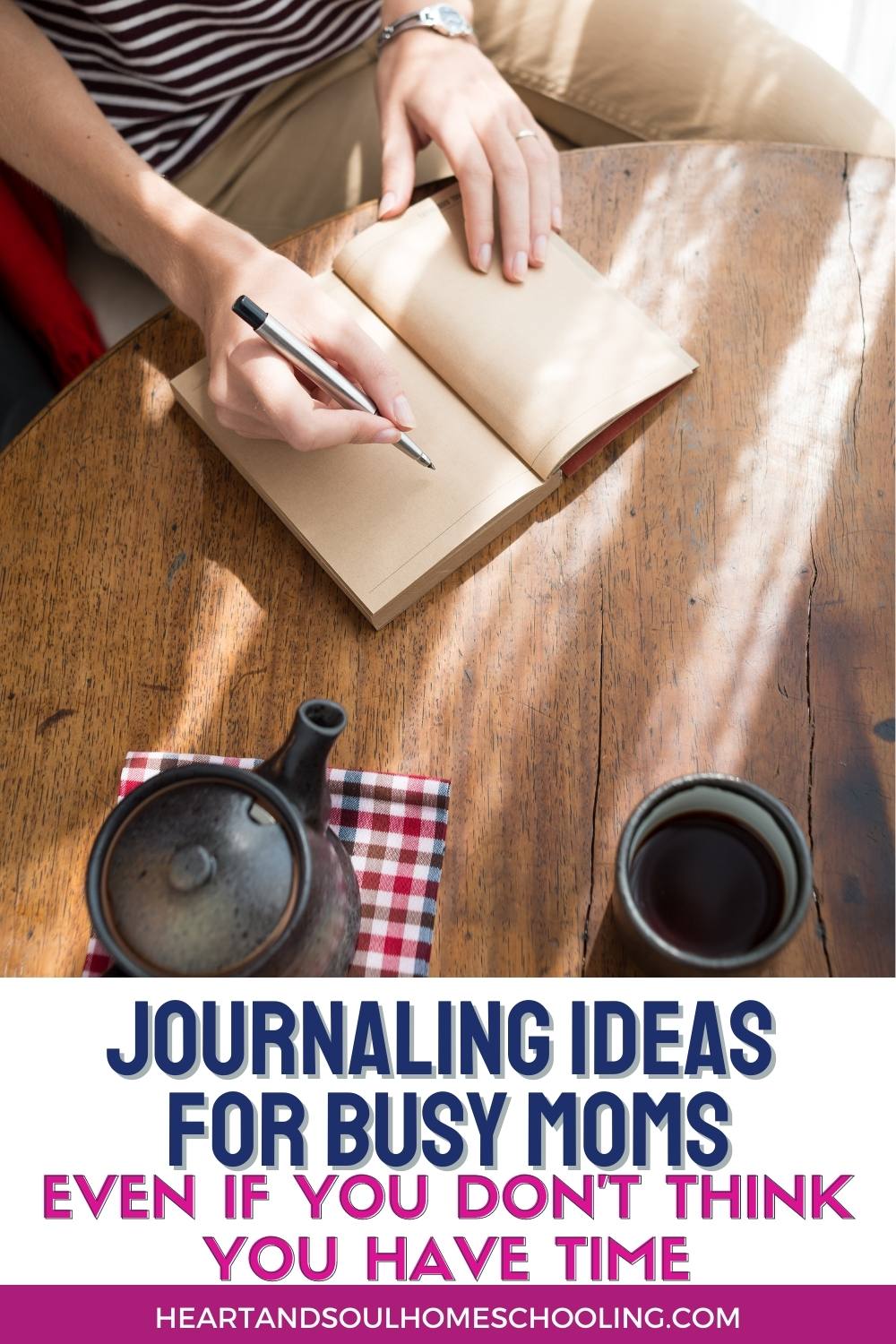 I was seven years old when I started my first journal. It was shortly after I wrote my first short story and I had discovered that I loved words. Something about stringing them together and giving substance to my thoughts, even at that age, was magical to me. Granted, my first efforts weren't exactly worthy of publication. I guess it was sort of a primitive form of Facebook for a little kid — I wrote about how disgusting the school lunches were, what I thought about my teacher, and how I felt about my cat. You know, important kid things. <wink>
Many years have passed since those early days of journal writing, but I continued to keep a daily journal for more than twenty years. I worked through the angst of the teenage years, dating, early marriage, infertility, miscarriages, failed adoptions, finding faith, and motherhood in those journals. It was a gift to be able to process life in those journals.
Now I blog, which is a form of journaling, but I also write in notebooks and planners and journals. I don't write those other things for publication, but just to gather my thoughts and get them out in a creative way.
Creative Moms Need to Create
Creative moms need an outlet, and whether you believe it or not, I'm willing to bet that you are creative. Before you shake your head no, think about it. Creativity isn't limited to writing or painting.
What about home decor?
What about singing?
What about figuring out the best way to organize and declutter?
What about finding the best deals and coupons for shopping?
What about upcycling and crafts?
What about photography?
The list can go on, but all of these things require creative energy and creative thinking skills.
Journaling can help you channel that creativity. It can help you process the tough times in life and rejoice in the good times. You want to preserve those memories because they're a part of who you are.
Finding Time for Journaling
I always wanted to do scrapbooking, either paper or digital, but I never seemed to get around to it. I have this thing with perfectionism and if I couldn't get everything just right, then I didn't even want to start.
Journaling is different.
If you're a writer, you know about the concept of the "crappy" first draft. Journals are your safe space to make the "crappy" first draft of your thoughts and feelings. You can write anything you want and no one need ever see it. No judgment. No picture perfect image. Nothing to pin on Pinterest. Just free writing, just for the sake of being creative.
Like most habits, journaling gets easier and feels more natural the more you do it. It doesn't take much time, just a few minutes a day — or a few minutes a week if you prefer.
Journaling Supplies
Journaling doesn't have to be expensive either, so you can do this on any budget. You can use something as simple as a twenty-five cent composition book (I get these on sale around Back to School time) or something as luxurious as a leather hardcover journal.
Last year, I created my own journal. It started as a 30-page printable pdf, but eventually turned into a 150-page softcover journal published on Amazon. It's called Mom's Quiet Time Journal. I'm so excited to share it with other busy moms who just want to enrich their quiet time in the little bits of time they can grab during the busy days. It's a great companion to your daily devotionals, your morning basket time, or as a bedtime routine.
Mom's Quiet Time Journal is designed for you to take just a few minutes a day or a week, whenever it works for you. No pressure, no perfection required. Do it while your kids are coloring so they can see you enjoy coloring, too. Do it to unwind so you can feel renewed and ready to mom again tomorrow. Do it for yourself because I know moms don't often do things for themselves. Do it to strengthen your faith walk because we all need to be still and know once in a while.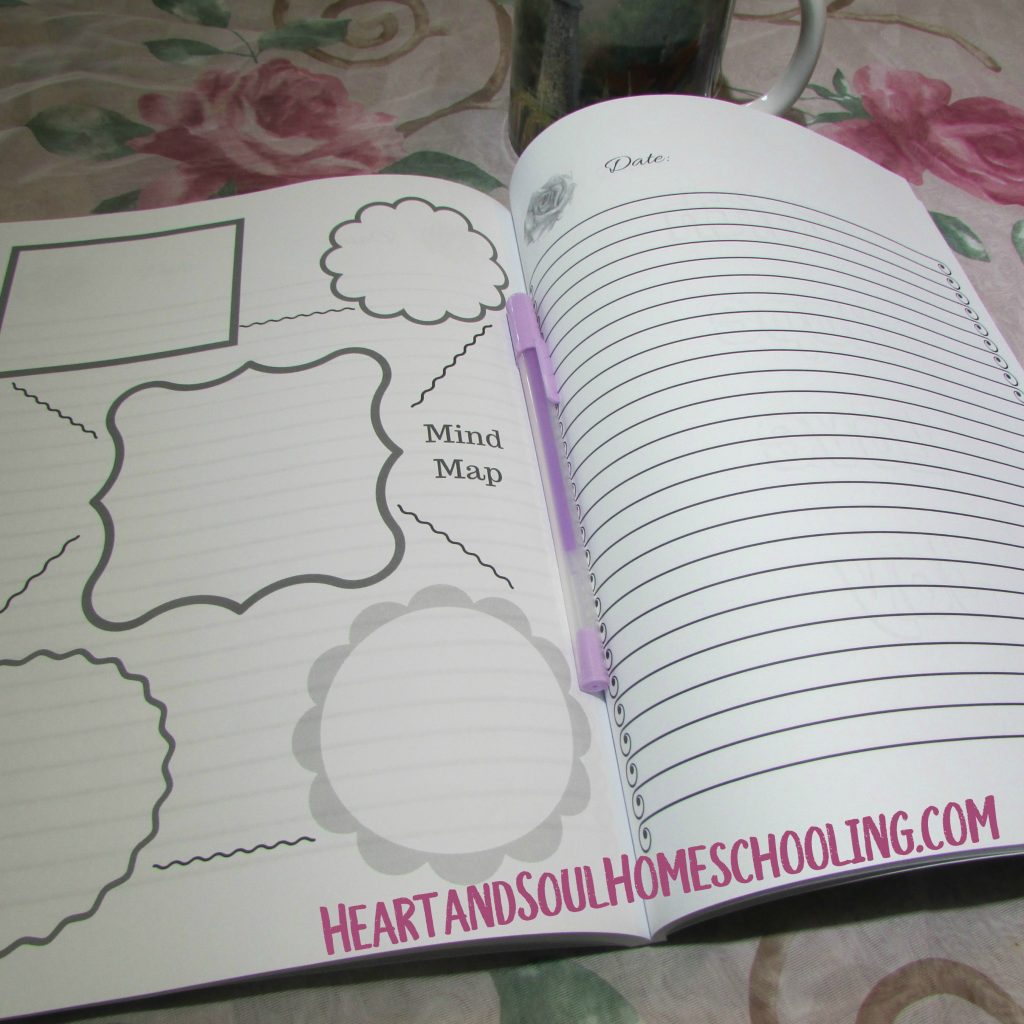 This journal is a place to record your thoughts, dreams, prayers, treasured memories, and favorite quotes. The coloring pages help you to memorize scripture and spend some relaxing quiet time with a creative activity. It's ideal if you like making lists to process your thoughts the way I do. It can be a clearinghouse for all those ideas you want to remember later and a springboard for your creativity. It includes:
• Writing prompts
• Blank lined pages for your thoughts
• Space to record current reading lists
• Coloring pages with and without Bible verses
• Mind maps
This is the kind of resource I personally needed and couldn't find, so I made it. I hope it blesses other moms, too!



Journaling Ideas for Moms
Sometimes people get hung up on what to write about. They don't think that they're writers so they get stuck before they start. Again I say, journaling is different. It's not about the writing or the technique so much as it's about creative expression. There's no wrong way to journal. No one is going to grade your grammar, thank goodness! Dangling participles and run-on sentences are totally okay.
If you can't think of what to write, here are some ideas:
Your daily routine
Lessons learned that you want to pass onto your kids
Lists of your favorites things — quotes, movies, books, places, recipes, etc.
Funny things your kids say and do
The hard things that you don't want to say out loud
The silly things that make you laugh
Your blessings and what you're thankful for in life
Mom's Quiet Time Journal has some guided pages with prompts to help you with ideas, mixed in with the blank lined pages.
I hope this has encouraged you to take some time to begin journaling without fear of huge time commitments or doing it "right." Give journaling a try just for you!
Read more in the series: