Directed Drawing for Kids
Directed drawing for kids offers a simple introduction to drawing skills by providing step-by-step instructions that are easy to follow and duplicate. Kids of all ages can create art with directed drawing!
By using resources like the free printable directed drawing pages below in this post or a picture frame drawing prompt, you can encourage creative confidence!
Don't miss the free directed drawing pages to download below!
What is Directed Drawing for Kids?
Directed drawing helps children become confident in their drawing skills. It also helps them to:
practice following directions
build fine motor skills
increase visual/spatial skills
gain artistic skills
enjoy a creative activity
Directed drawing is art which breaks down the creative process into easy individual steps. The steps are simple to keep children interested. It also builds confidence since results are not proportional to skill. Anyone can achieve good results!
Kids can sometimes become frustrated or discouraged when it comes to art time because they aren't sure what to draw or how to begin. Directed drawing helps them overcome that by offering step-by-step instructions to draw familiar objects.
They will gain confidence in art and their drawing skills through repeated practice. As they get comfortable with the process, they'll add their own personal touches to the drawings and begin to look forward to art time!
Kids can easily learn to draw familiar objects like flowers, animals, vehicles, and more through directed drawing techniques.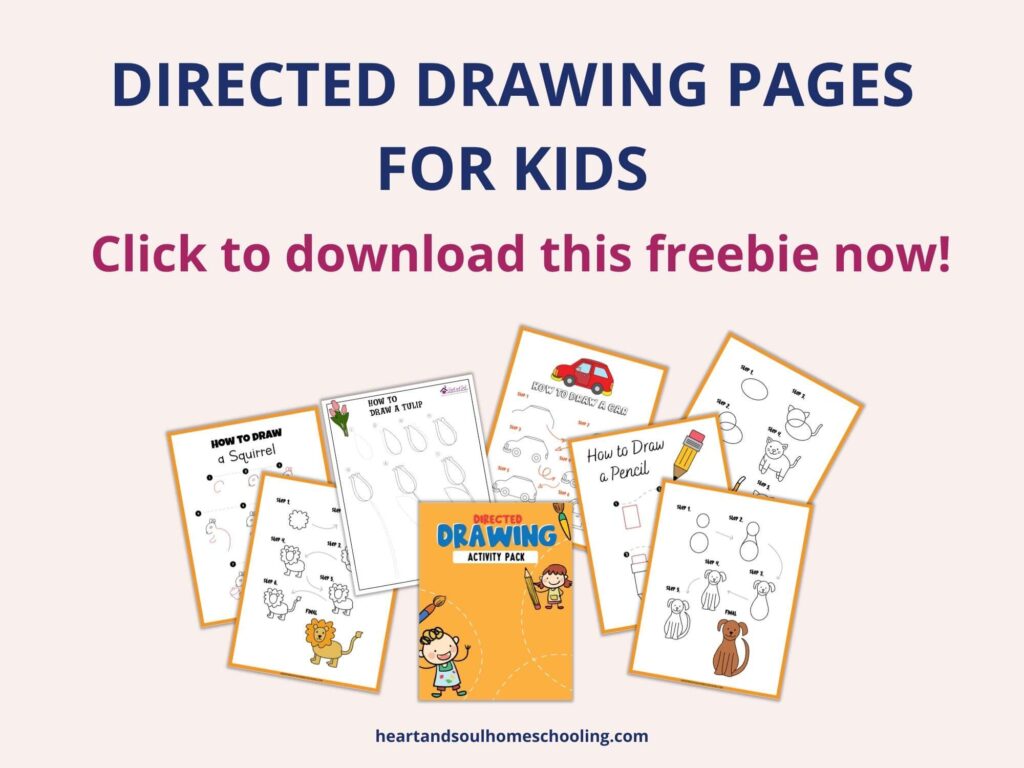 Free Directed Drawing Pages for Kids
I've put together a sampler of free directed drawing pages for kids so you can try it out! The pages include the following things to draw:
how to draw a cat
how to draw a dog
how to draw a pencil
how to draw a tulip
how to draw a lion
how to draw a car
how to draw a squirrel
You can download these free directed drawing pages by clicking the image below: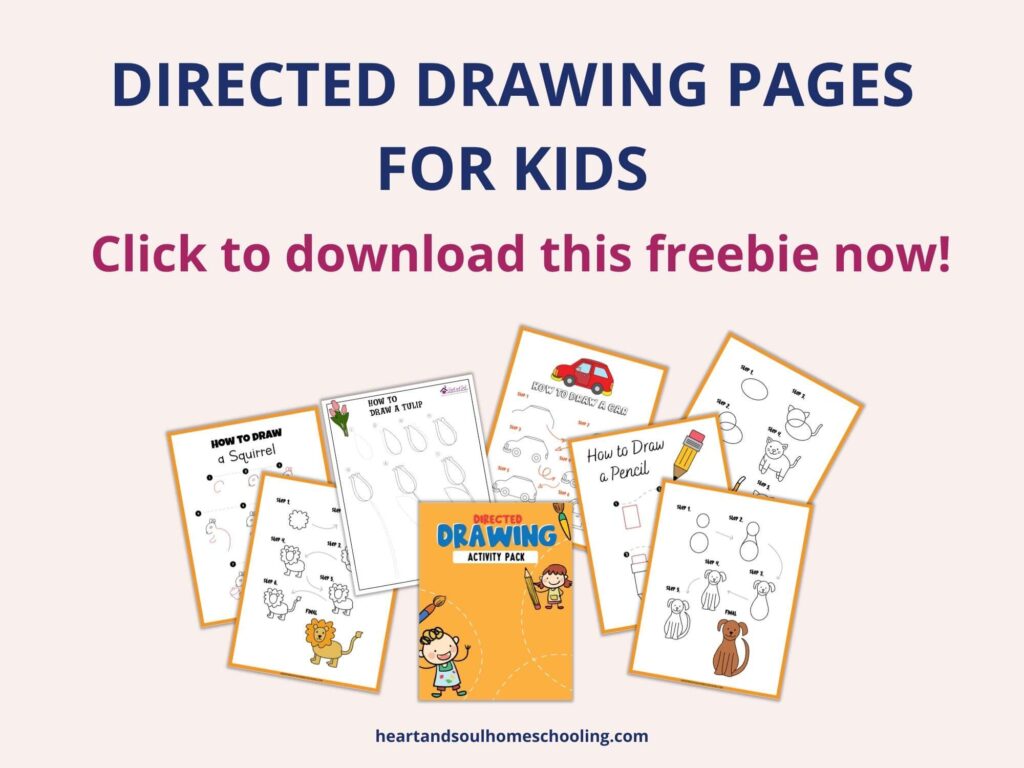 Directed Drawing Resources & Supplies
Once your children have a chance to use these free directed drawing pages, they'll probably ask for more! They're a fun activity to do on rainy days, road trips, and for those "I'm bored" moments.
In the Heart and Soul Homeschooling store:
Here are some other resources and supplies you might want to check out:
I also recommend Blick Art Materials for high quality art supplies at reasonable prices:
FAQ
What is directed drawing?
A drawing which is divided into smaller, simpler steps. Each step is a relatively easy part of the whole drawing. When all the steps are done a complete drawing is formed.
Why are directed drawings good?
Because complex drawings are broken down into simpler parts. Kids or beginners can have good results since they can focus on one small part at a time.