4th of July Books for Kids
We're adding these fun 4th of July books for kids to our book basket. Have you read any of them? It's a great way to help kids learn about history and why we celebrate the 4th of July.
Don't miss the free printable 4th of July fun pack of activities for kids at the bottom of this post!
4th of July Books for Kids
The Night Before the Fourth of July by Natasha Wing
It's the night before the Fourth of July and all across the United States people are getting ready for hot dogs and fireworks. Decked in red, white, and blue, a family heads to a parade, hosts a backyard BBQ with friends and family, dodges an afternoon thundershower, and of course, watches a fireworks show. The Night Before the Fourth of July captures all the fun, excitement, and pride of the best summer holiday!
Corduroy's Fourth of July by Don Freeman
Today is the 4th of July, and Corduroy and his friends are having a fun-filled picnic. They eat tasty treats and play games in the hot summer sun. Then it's time to cool down with a dip in the pool. Next they take part in an Independence Day parade! Scruffy Pup bangs the drum, Checkerboard Bunny plays the flute, and Corduroy carries the American flag. Once it's dark outside, the friends gather to watch an amazing fireworks display.
This sturdy, brightly colored shaped board book is perfect for the youngest fans of Corduroy, one of the best-loved characters in children's books for the past 50 years.
Hello, Fourth of July! by Martha Zschock
It's the Fourth of July! Parent and child eagles celebrate America's birthday in best-selling author-illustrator Martha Day Zschock's Hello! board book series for children. In Hello, Fourth of July! join the pair as they spend the day surrounded by the red, white and blue. Along the way, take in a parade, view historical paintings and statues, hit the beach, and enjoy great food at a picnic and barbecue, topping off the day with a colorful fireworks display! For ages 2-5.
Blue Sky White Stars by Sarvinder Naberhaus
An inspiring and patriotic tribute to the beauty of the American flag, a symbol of America's history, landscape, and people, illustrated by New York Times bestselling and Caldecott-honor winning artist Kadir Nelson.
The Story of America's Birthday by Patricia A. Pingry
This little book presents the story of the founding of America in words that are simple enough for a toddler to understand. Vibrant illustrations paired with the text help to create the connection between the story of the Declaration of Independence and American Revolution and today's Fourth of July festivities. Parents can use this book to introduce little ones to the history and meaning behind Independence Day. Ages 2-5.
The Berenstain Bears God Bless Our Country by Mike Berenstain
The Bear family and their Bear Country neighbors celebrate the Fourth of July with a big parade. But not before the cubs get a lesson about the blessings of freedom for their country. Features 12 full-color stickers.
My Fourth of July by Jerry Spinelli
Picnics! Singing! Fireworks! It's time to celebrate the best day of all–the Fourth of July! Newbery Medalist Jerry Spinelli and award-winning illustrator Larry Day join forces to celebrate America's birthday, the Fourth of July.
F Is for Flag by Wendy Cheyette Lewison
June 14 is Flag Day, but with so many American flags proudly displayed, every day seems like Flag Day. Perfect for reading together with a young child, F Is for Flag shows in simple terms how one flag can mean many things: a symbol of unity, a sign of welcome, and a reminder that-in good times and in bad-everyone in our country is part of one great big family.
Parade Colors by Barbara Barbieri McGrath
This upbeat and cheerful celebration for baby's first patriotic holidays introduces a variety of colors as readers encounter Uncle Sam, parade floats, and the American flag.
Apple Pie, Fourth of July by Janet Wong
Shocked that her parents are cooking Chinese food to sell in the family store on an all-American holiday, a feisty Chinese American girl tries to tell her mother and father how things really are. But as the parade passes by and fireworks light the sky, she learns a surprising lesson.
Our Flag Was Still There by Jessie Hartland
From beloved author-illustrator Jessie Hartland comes a whimsical nonfiction picture book that tells the story of the American flag that inspired the poem and our national anthem, "The Star-Spangled Banner."
Fourth of July by Emma Carlson Berne
On the Fourth of July, Americans remember the founding of the United States. On this day, people gather for picnics and watch parades and fireworks. Sing along as you explore Holidays in Rhythm and Rhyme! Includes online music access.
Long May She Wave by Kristen Fulton
Discover the story of the girl who sewed the American flag that inspired the lyrics of the National Anthem in this beautifully illustrated celebration of our country's iconic symbol for freedom.
Caroline Pickersgill came from a family of the best flag makers in Baltimore. She and her family proudly stitched the grand flag that gallantly whipped in the wind over Fort McHenry.
But when the British attacked Baltimore on September 12, 1814, would those broad stripes and bright stars still wave strong? Would America still be free and remain the home of the brave?
What Does it Mean to Be American? by Rana DiOrio and Elad Yoran
An engaging picture book for children that celebrates what it means to be American―regardless of politics! Focuses on what unites us rather than what divides us.
Daniel's First Fireworks by Becky Friedman
A new generation of children love Daniel Tiger's Neighborhood, inspired by the classic series Mister Rogers' Neighborhood!
Daniel Tiger and his little sister Margaret see fireworks for the first time in this adorable 8×8 storybook based on a popular episode of Daniel Tiger's Neighborhood!
Lady Liberty's Holiday by Jen Arena
Hit the road and see America with the Statue of Liberty!
The Statue of Liberty is feeling a little blue, despite being green. As much as she loves welcoming people to America, standing still for over a hundred years has left her with a stiff neck, aching arms, and a cramp in her leg. This lady could use a vacation!
Elmo Doodle Dandy by Naomi Kleinberg
Join Elmo, Big Bird, Grover, Zoe, Abby Cadabby, Bert, and Ernie as they don Colonial costumes and gather to celebrate Independence Day with a parade and picnic. Flocking on the cover and in every spread adds irresistible tactile appeal.
Fourth of July Mice by Bethany Roberts
Hooray! It's the Fourth of July, and the parade is ready to start! The Holiday Mice lead the way to a day full of nonstop fun, including a picnic, a baseball game, a sack race, and a splashy-sploshy dip in the stream. The best part comes at the end of the day when fireworks go BOOM! BOOM! BOOM! Level 1 beginners will delight in the wordplay, rhyme, and repetition. Three cheers for the red, white, and blue!
A is for America by Tanya Lee Stone
Little ones will love learning American history in Tanya Lee Stone's latest alphabet book. Rhyming couplets that flow through the alphabet help kids celebrate everything from the Constitution and the Declaration of Independence to Thomas Jefferson and Harriet Tubman!
Enzo and the Fourth of July Races by Garth Stein
Garth Stein, the New York Times bestselling author of The Art of Racing in the Rain, returns with the newest addition to the Enzo picture book series, Enzo and the Fourth of July Races. Stein captures the excitement of the Fourth of July and the thrill of a car race as Enzo, Zoë, and Denny team up for the biggest race of the year.
These 4th of July books for kids can be perfect starters for a unit study or added to your morning basket. They're also just plain fun summer reading!
Free 4th of July Printables for Kids
Be sure to download your free printables for 4th of July. Kids will love doing the word search, coloring pages, and playing the fun 4th of July BINGO game. Great summer boredom buster! Get it today!
Just click the image below and fill out the form so your printables will be delivered to your email instantly: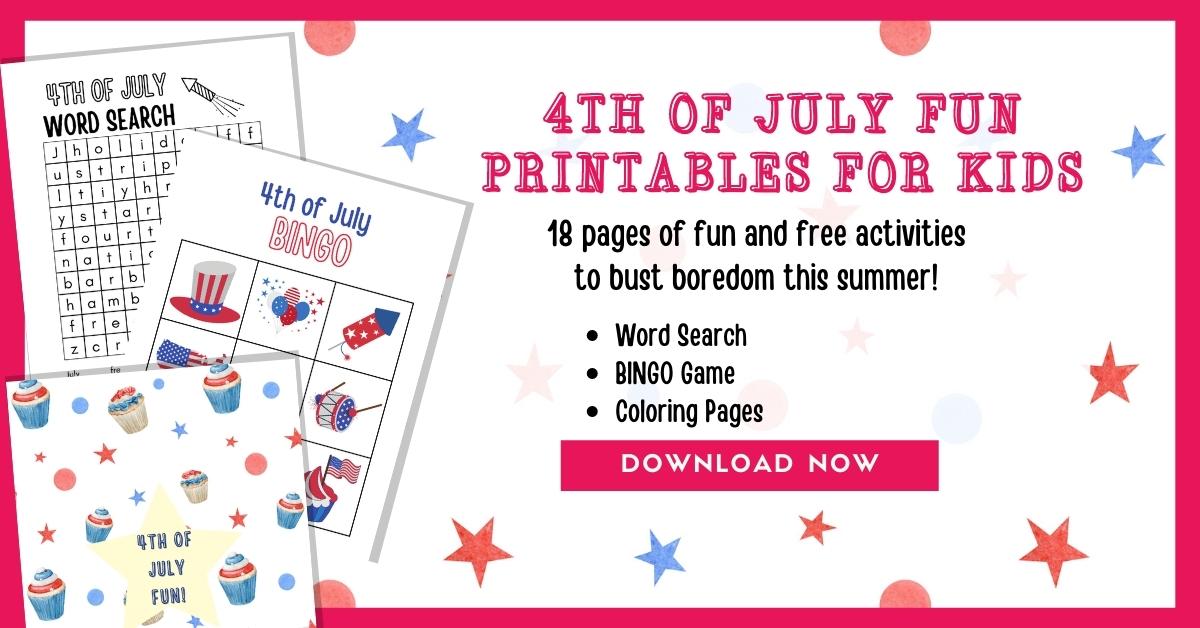 You might also like these ideas:
7 Ways to Encourage Summer Reading + Free Printable Color by Number Bookmarks
Joyful Summer Learning Activities
30 Summer Writing Prompts with Free Printable Journal
Plan a Simple Summer Unit Study
Pin this post for later: