Studying American Literature for High School

As my oldest daughter entered the high school years, I knew I wanted to offer her a solid study of literature. When I think of all the great books, poems, essays, and short stories to read, it can certainly seem like a daunting task to cover it all — or at least sort through the most important. We've read so many great living books already through our homeschooling years, but I wanted something specific to American Literature that could also accompany our history studies to really enrich the learning experience for her. She loves to read, but I wanted to expand her love of reading to stretch her skills in terms of comprehension and even worldview.
In other words, reading great literature expands critical thinking skills, empathy, and solidifies why faith and integrity are essential. It provides a glimpse of life beyond our own little corner of the world and a reference point for historical time periods. That makes literature one of the most important things we study during the high school years.
I thought I was going to have to put together my own curriculum for her to get exactly what I was looking for in this regard. Then along came American Literature originally from Apologia.
As soon as I read the description, I knew it was exactly what I wanted in an American Literature course. I already trust Apologia from years of using their science, reading, and writing curricula, so I knew it would be a quality resource.
American Literature for High School
The Apologia American Literature curriculum covers five major time periods and literary movements:
The Colonial Age
The Age of Reason and Revolution
The Romantic Age
The Age of Realism
The Modern Age
This gives us a solid foundation of American Literature representing different styles and historical reference points.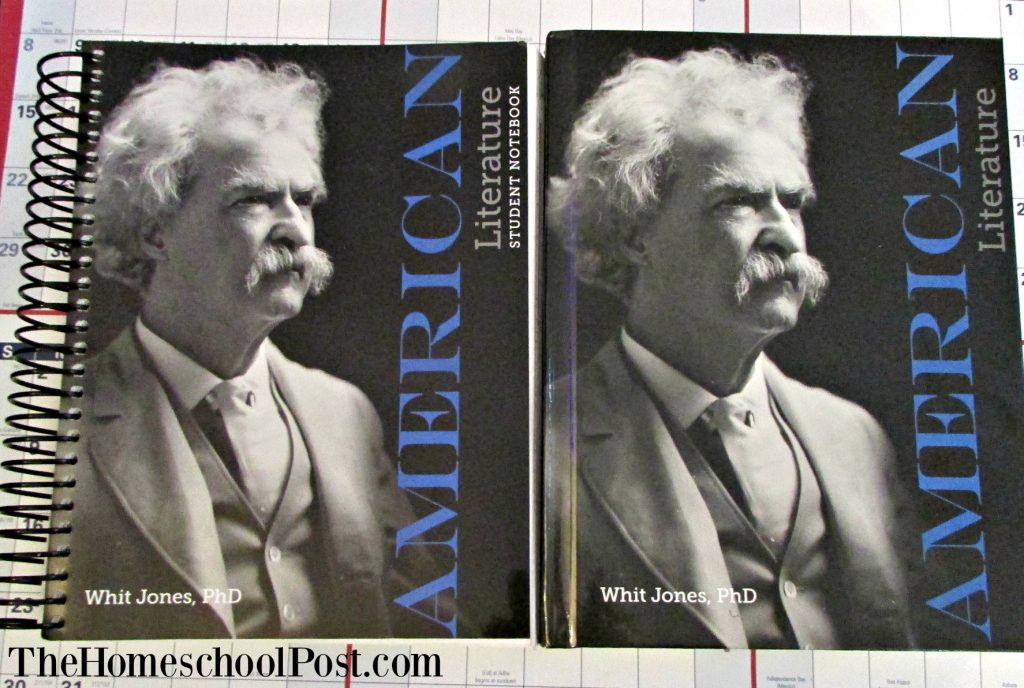 The American Literature curriculum includes a hardcover textbook and a soft cover spiral-bound student workbook. The design of the workbook makes it easier to rest it flat on the desk or to fold the cover back while writing in the workbook. My daughter often reads while on the couch or in a comfy chair rather than at her desk.
The textbook itself is very substantial (heavy!) so not quite as easy to "curl up with." Just a minor detail that my daughter mentioned about it, which she said made it even more impressive to her. "This is a course to take seriously," she said.
The American Literature course is designed for a year's course of study. Students earn 1 credit in American Literature and 1 credit in Writing upon completion.
There is an extensive Answer Key, along with the Daily Lesson Plan outline available for free on the Apologia Book Extras site. You will find the login information for this special site inside your American Literature textbook.
The author of the textbook, Dr. Whit Jones, is the 2017 Recipient of the Educator of the Year Award from Bryan College, where he is a professor. Dr. Jones is a homeschooling father and has taught his American Literature courses to homeschool students.
Take a look at this video featuring Dr. Jones giving an overview of the course:

Apologia American Literature is Thorough
With 90 suggested readings, American Literature gives us a thorough selection of reading material. Though my daughter doesn't personally resonate with all of it, of course, she has found some interesting reading material that she hadn't considered before. This says a lot considering she has always been a voracious reader.
Some of the reading material is complete within the textbook, while others are just excerpts due to copyright laws. It's very easy to supplement with library books or to purchase the books from Amazon or your local bookstore. They are classic works, so not hard to find.
We've completed one semester so far and she says it's one of her favorite courses she's ever taken. She's currently at the 10th/11th grade level, on track to graduate a year early. We have been having some great discussions about the readings! There are some that I haven't read since high school so it's a nice refresher for me as well.
Apologia American Literature Complements our History Studies
We make it a point to cover the contributions and accomplishments of women in history in our homeschool studies. I was very pleased to see that American Literature included the writings of women and minorities, which isn't always the case with historical literature studies. Some of the women included are Phillis Wheatley, Abigail Adams, Anne Bradstreet, and Sarah Kemble Knight.
Apologia American Literature Includes Writing
Students are asked to write essays and literary analysis papers throughout the course. Even the discussion questions are thorough enough to base writing assignments on them. As an introvert, my daughter naturally processes her thoughts through writing, so she enjoys this aspect of the course. She appreciates the push to gather her thoughts and express them coherently as she works through the issues. I have been so happy to see her growth and maturity through this course.
Apologia American Literature has a Christian Worldview
Not all of the literature has a Christian worldview because not all of the authors were Christians, but the analysis in the curriculum includes that aspect. I think this is an essential component of the curriculum for high school — preparing my daughter to think through life's questions with a Biblical worldview even when the world doesn't present it that way. It gives her the strength and the courage to defend her beliefs, as well as to see what happens when people don't live by those same character traits.
I'm glad to find Apologia American Literature at this time in our homeschool journey. It is just what we needed at just the right time.