Growing Character and Compassion with Great Books
Character is one of the four C's at the heart of our homeschool, along with creativity, curiosity, and connection.
As C.S. Lewis said —
"Education without values, as useful as it is, seems rather to make man a more clever devil."
Character building is definitely a priority for us. Teaching character through great literature is one of my favorite ways to do that. Great books lead to great discussions, which leads to great thoughts. That kind of thinking builds character and compassion. The world definitely needs more of that!

Growing Character and Compassion with Great Books
We use living books whenever possible in our homeschool. Because of our love for literature-rich learning, I have been eyeing Beautiful Feet Books for over a year now. They have so many terrific packages — including history, geography, and character — that I hadn't made a decision on anything yet. So you can imagine that when the chance to review the Teaching Character through Literature Teacher Guide and Intermediate Reading Pack came up, I was thrilled!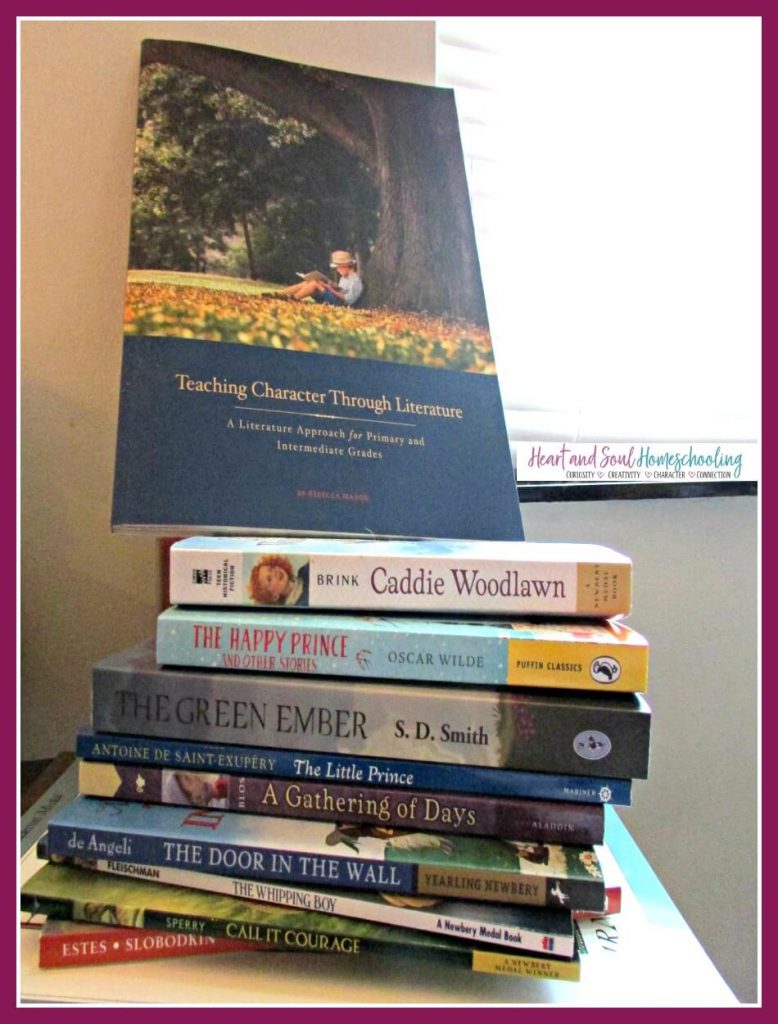 Receiving a box full of books in the mail is a dream come true for us! And the box from Beautiful Feet Books was definitely full of great books — some of our favorites and some that were new to us. My daughters were anxious to dive into them.
Beautiful Feet Books Teaching Character through Literature
Look at this wonderful list of books included:
The intermediate level is geared for 4th through 6th grade. There is also a primary level for younger learners.
I couldn't stop my daughters (9 and 11) from diving in and beginning to read the books, even though I hadn't gotten to go through the Teacher Guide yet. They just couldn't wait to get started. Even my oldest daughter (17) looked through the stack of books and started talking about some of her favorites among them that she had read previously.
We have a very literature-rich, delight-directed approach to homeschooling so this set is ideal for us.
The Teacher Guide
It's entirely possible to read great books and absorb some life lessons from them without any further study into it. However, with the addition of the Teacher Guide you can easily enhance the reading with great discussion questions. As I said, it's those great discussions that lead children into deeper thinking and the character building begins to happen.
The Teacher Guide offers discussion questions that aren't just about reading comprehension, but a deeper level of understanding. For instance, this is for the study of The Hundred Dresses:
How does Maddie justify her silent complacency? Can you think of other situations where people are devalued based upon the way their name sounds, the way they look, or where they're from?
It is also formatted in a way that makes it easy to pick it up and begin without much prep for the teacher. We can read books aloud together at our own pace or they can read on their own. Of course I also enjoy reading the books and talking it through with them so that's how we've used it in a way that works well for us. We will continue to use it into our next school year.
The guide is divided into sections which include lists of recommended authors, favorite books, a suggested reading plan, the discussion questions, and other notes. There are Bible verse memory cards in the back of the Teacher Guide that you can cut apart and use as well. Bible lessons are interwoven throughout the book discussions.
Character and Compassion
The ability to express opinions and entertain ideas with compassion while considering other perspectives seems to be a lost art in our culture today. I hope I can guide my daughters to develop these qualities.
Teaching Character through Literature opens up an opportunity to grow character and compassion centered around sharing good stories with solid moral lessons. Seeing how the literary characters react to life situations, thinking about what they would do in similar circumstances, and considering different perspectives helps children develop positive character traits.