The Best Abraham Lincoln Books for Kids
We've read many books about Abraham Lincoln during our homeschool years, but I've put together the list of our favorite Abraham Lincoln books for kids here to help you narrow it down for your next library visit or book purchase from Amazon.
Learning with living books such as these classic picture books and chapter books can help kids get a clear picture of Abraham Lincoln and his historical significance as the 16th president of the United States during the Civil War era.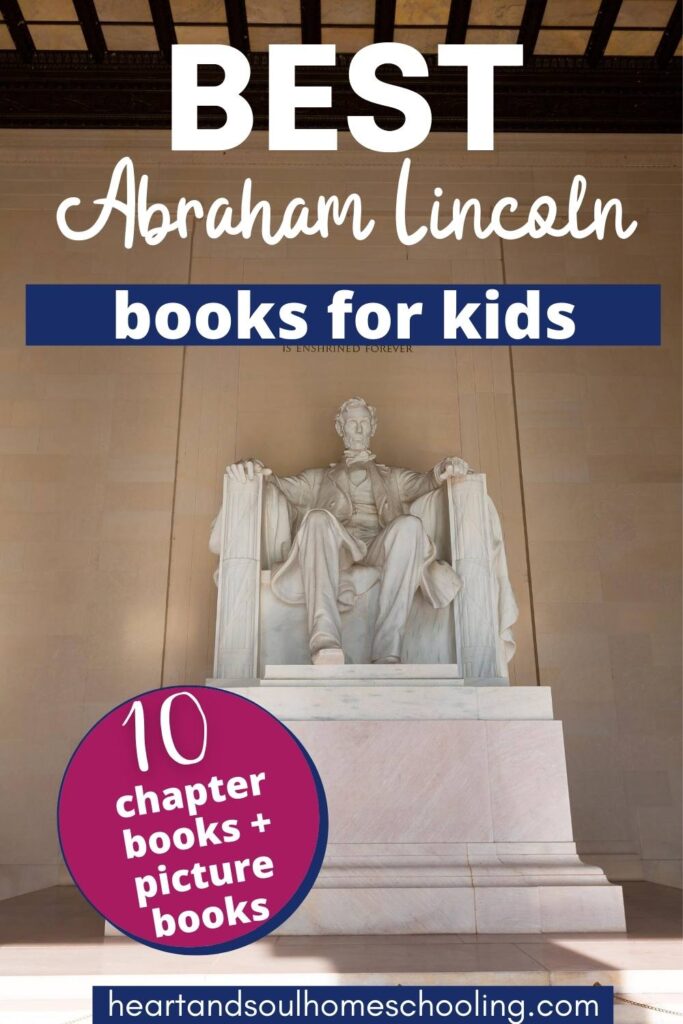 Abraham Lincoln Books for Kids
Abraham Lincoln by Ingri and Edgar Parin d'Aulaire
This is our absolute favorite classic picture book about Abraham Lincoln. Not only are the illustrations beautiful, the text is engaging and draws the reader into the story. If you use Beautiful Feet Books, you'll recognize the d'Aulaire books as highly recommended classic living books.
In honor of the 75th anniversary of the 1940 Caldecott Medal award this edition reintroduces readers young and old to America's most beloved President through exquisite illustrations made from the original lithographic proofs the authors created in 1939. This delightful biography traces Lincoln's life from his birth in the Kentucky wilderness, to his shop-keeping days in New Salem, becoming a lawyer in Springfield, and his eventual election as President. Woven throughout are his legendary adventures, his humor and wit, and stories you won't read anywhere else.
Abe Lincoln: the Boy who Loved Books by Kay Winters
We love the heart behind this book, which not only teaches children something about Abraham Lincoln, but also about the love of books and reading and how it can change your life.
In a tiny log cabin a boy listened with delight to the storytelling of his ma and pa. He traced letters in sand, snow, and dust. He borrowed books and walked miles to bring them back.

When he grew up, he became the sixteenth president of the United States. His name was Abraham Lincoln.

He loved books.
They changed his life.
He changed the world.
Who was Abraham Lincoln? by Janet B. Pascal
This book is from the popular Who Was? biography series. If you have Kindle FreeTime Unlimited (you can get a free trial!), you can read it for free.
Born to a family of farmers, Lincoln stood out from an early age—literally! (He was six feet four inches tall.) As sixteenth President of the United States, he guided the nation through the Civil War and saw the abolition of slavery. But Lincoln was tragically shot one night at Ford's Theater—the first President to be assassinated. Over 100 black-and-white illustrations and maps are included.
Meet Abraham Lincoln by Barbara Cary
This is one of the books in the Landmark Books series of biographies. It's a good beginner biography for newly independent readers, about 6-9 years old.
This warmly told biography of our sixteenth president is enriched by many authentic but seldom told anecdotes and complemented by bold color illustrations that capture the spirit of Lincoln and his era.
A Picture Book of Abraham Lincoln by David A. Adler
My daughters really like the illustrations in this book. They're colorful and friendly, bringing personality to the story. David Adler has written a series of picture book biographies of presidents, heroes, inventors, explorers, and adventurers.
Our sixteenth president, whom some say was our greatest, was born in a one-room log cabin in Kentucky. As a boy he helped his father clear land and even built a boat that he floated to New Orleans. As president, he led the country through the Civil War, and wrote the Emancipation Proclamation, setting all slaves free in the Confederate states. Young readers will be inspired by Lincoln's story of hard work, success, and justice.
Abe Lincoln at Last! by Mary Pope Osborne
Have you read the Magic Tree House series? If you haven't yet, you'll want to get this one about Abraham Lincoln.
Are you ready for a presidential adventure? Jack and Annie are! They are whisked back to Washington, D.C., in 1861. Jack can't wait to meet Abraham Lincoln himself! But the new president is too busy to see them, as he is desperately trying to save a nation in crisis. It's a race against time as Jack and Annie try to aid a president and a troubled nation!
Magic Tree House Fact Tracker: Abraham Lincoln by Mary Pope Osborne
If you get the Magic Tree House chapter book, you'll want the companion non-fiction book to go along with it.
National Geographic Readers: Abraham Lincoln by Caroline Crosson Gilpin
National Geographic Readers are educational, high-interest, and comprehensive for children. You can also find this one for free on Kindle FreeTime Unlimited.
In this title, readers will learn about the fascinating life and legacy of our 16th President of the United States, Abraham Lincoln and his historic decision to abolish slavery. Readers will also learn why this decision impacted the United States, as well as the extent of Lincoln's impact as a fearless leader of the Civil War.
I am Abraham Lincoln by Brad Meltzer
This picture book is from the Ordinary People Change the World series of biographies. This engaging series is the perfect way to bring American history to life for young children, and to inspire them to strive and dream.
Abraham Lincoln always spoke up about fairness, and thus he led the country to abolish slavery. This book follows him from childhood to the presidency, including the Civil War and his legendary Gettysburg Address.
The Story of Abraham Lincoln: A Biography Book for New Readers by Carla Jablonski
This book is unique in that it includes vocabulary words and a visual timeline to get to know Abraham Lincoln and his significance in history. It also focuses on his boyhood and the way his character was shaped.
He soon discovered that by learning as much as he could, he would be able to help people and change the world for the better. Of all the Abraham Lincoln books for kids, this one best explores how he went from being a poor farm boy with a dream to one of the most powerful leaders in US history.
Abraham Lincoln Lapbook + Unit Study
Expand your learning with an Abraham Lincoln lapbook and unit study. You can find the details here: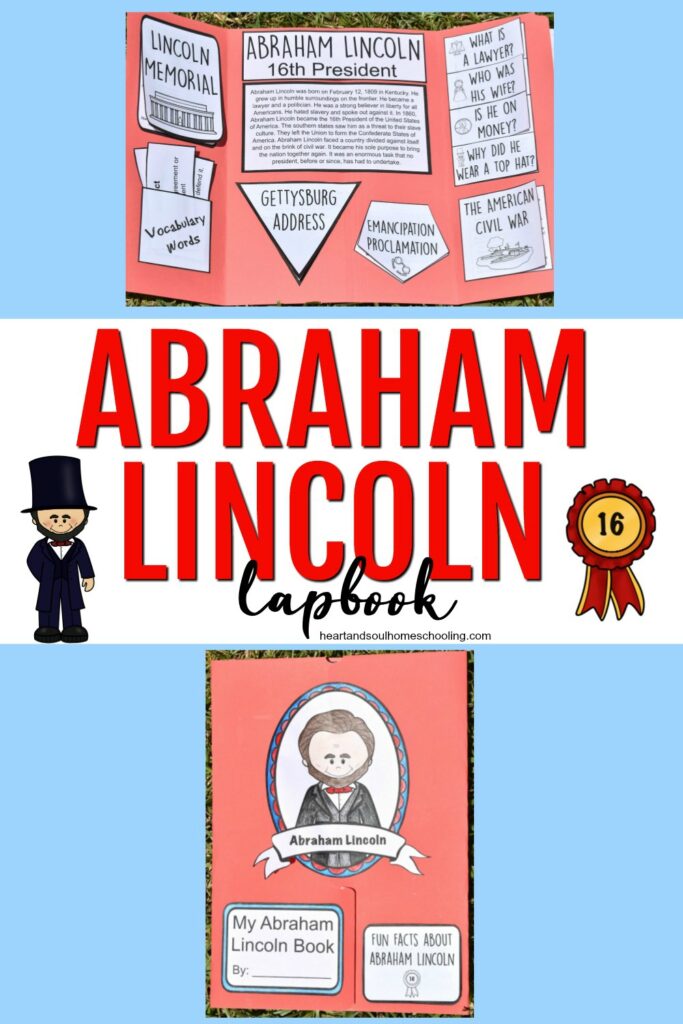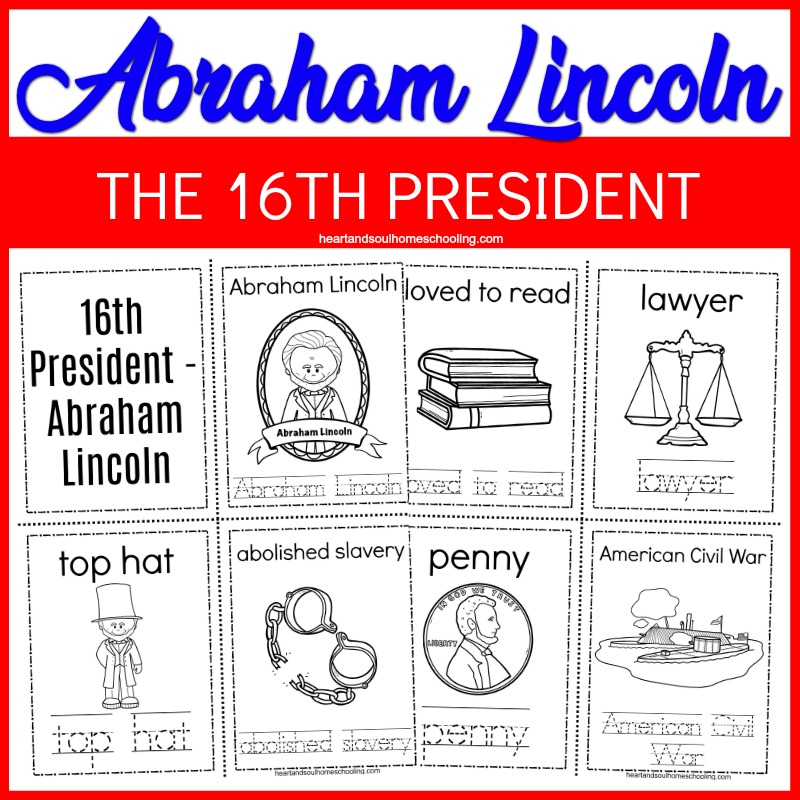 You might also like to read this post: Hands on American History Projects for a Civil War Unit Study
Abraham Lincoln Books for Kids
&
 A Picture Book of Abraham Lincoln (Picture Book Biography)
 Abraham Lincoln (My First Biography)
 Abe Lincoln's Hat (Step into Reading)
 My Little Golden Book About Abraham Lincoln
 Abraham Lincoln, 75th Anniversary Edition
 National Geographic Readers: Abraham Lincoln (Readers Bios)
 The Story of Abraham Lincoln: A Biography Book for New Readers (The Story Of: A Biography Series for New Readers)
 I am Abraham Lincoln (Ordinary People Change the World)
 Abe Lincoln: The Boy Who Loved Books
 Who Was Abraham Lincoln?
 DK Biography Abraham Lincoln: A Photographic Story of a Life
 Meet Abraham Lincoln (Landmark Books)
 Magic Tree House Fact Tracker: Abraham Lincoln: A Nonfiction Companion to Magic Tree House #47: Abe Lincoln at Last!
 Abe Lincoln at Last! (Magic Tree House (R) Merlin Mission)
 Abraham Lincoln: 65 Fascinating Facts For Kids
 Young Abe Lincoln: The Frontier Days: 1809-1837