Sale!
Great Big Christmas Activities Bundle | Christmas Unit Study
Enjoy a stress-free December in your homeschool with this done-for-you bundle of Christmas activities. Over 36 resources covering math, geography, language arts, crafts, games, and more to make learning fun for the holidays!
Description
Great Big Christmas Activities Bundle | Christmas Unit Study
A bundle of over $90 worth of Christmas learning resources, including lapbooks, writing prompts, math practice, handwriting practice, games, and creative crafts and activities to make homeschooling easier — and more fun! — this season!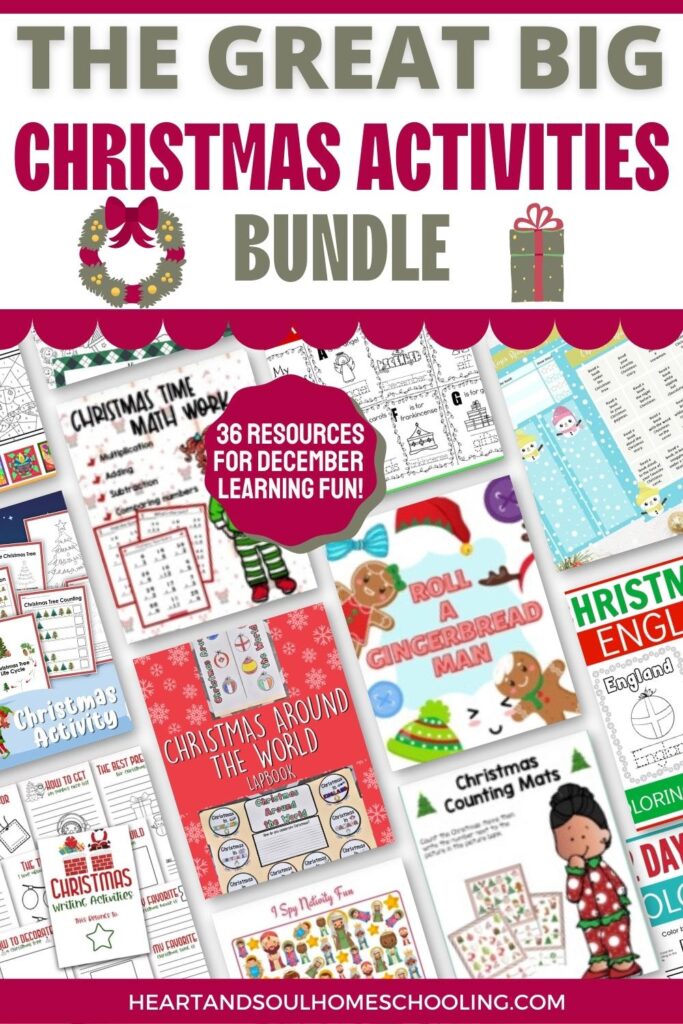 Learn about Christmas around the World
Christmas around the World lapbook and more will help you learn about holiday traditions in other countries.
So much fun!
Math, language arts, puzzles and word games, geography, and more are included in this bundle of Christmas learning! All for less than $1 per resource!
Make memories
with your Christmas homeschooling this year!
A Done-for-You December Homeschool
If you've ever had big plans and dreams for December homeschooling, but somehow got sidetracked by busy-ness and searching for ideas on the Internet while fighting distractions, this is for you!
If you've ever felt guilty about setting aside educational activities for the entire month yet you don't want to spoil the joy of just being a child at Christmas, this is for you! (By the way, don't feel guilty about setting aside the homeschool curriculum for December!)
If you've ever wanted to press the easy button for holiday homeschooling and have something fun and simple at your fingertips to bust boredom and encourage the fun of learning, this is for you!
If you want a relaxed homeschool atmosphere, especially at Christmas time, but you aren't sure where or how to start, this is for you!
Believe me, I've felt all of those things at one time or another in my almost 15 years of homeschooling.
So let my experience help you enjoy this December with memory-making and fun learning activities!
No stress, no pressure, no prep time! Just quick and easy learning for ages 4-12.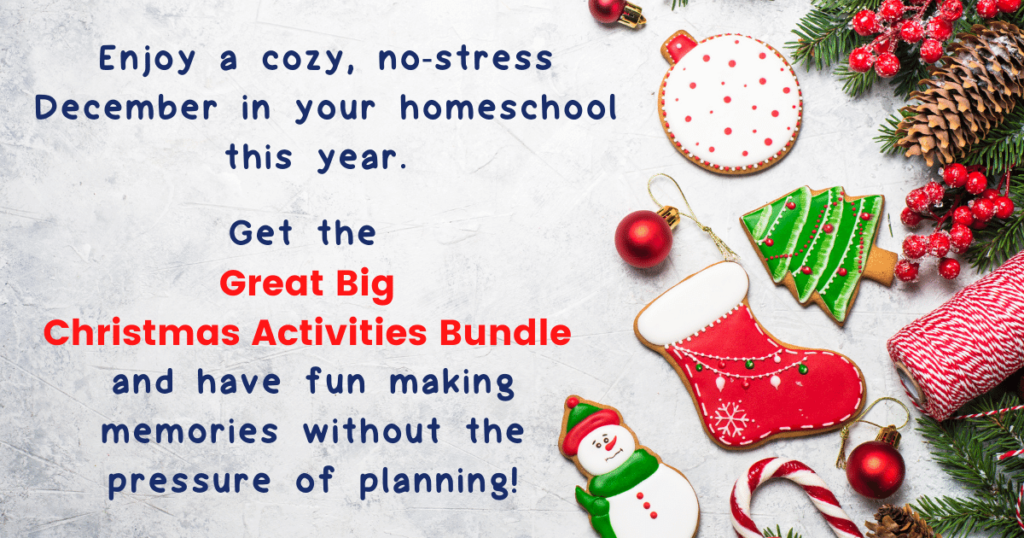 Great Big Christmas Activities Bundle includes:
Christmas around the World
 Christmas around the World lapbook

 Christmas around the World Color by Number
Christmas in Australia Writing and Coloring Book
Christmas in Ireland {Writing and Coloring Book + Bingo Game}
Christmas in England Writing and Coloring Book
Christmas in Italy Writing and Coloring Book
Christmas Creative Writing & Reading
 Make a Christmas Alphabet A-Z Booklet

 Christmas Creative Writing Prompts

Christmas Creative Writing and Drawing
Christmas Reading Challenge + Printable Bookmarks
 Christmas Counting Mats

 Christmas Math Practice
Colorful Christmas Math Games
Decorate the Christmas Tree Math
Christmas Fun Counting Book
Christmas Games
 Christmas Placemat Fun Activities

 Christmas Nativity Activities {I Spy + Maze}

Roll a Gingerbread Man Printable Game
Spot the Difference Christmas Pictures
Christmas Word Games
Christmas Lights Scavenger Hunt
Christmas Origami
Christmas Color by Number
 12 Days of Christmas Color by Number

 Christmas Symbols Color by Number

Christmas Faces Color by Number
Christmas Tree Activity Pack
 Christmas Tree Activities
Favorite Christmas Books to Read
Nativity Activity Set
Printable Ornaments
Christmas Origami
New Year's Hat Craft printable
25 Days of Christmas activities calendar
24 Christ-centered Christmas Ideas
Christmas Bucket List
Gift guides for the whole family
For more Christmas activities and winter inspired learning ideas, check out these posts: