Math Mammoth Homeschool Curriculum Review
Homeschooling offers a unique opportunity to tailor your child's education to their specific needs and learning pace. When it comes to teaching mathematics, Math Mammoth has become a trusted companion for homeschooling families worldwide.
We've been using Math Mammoth in our homeschool and I want to share our experience with it, along with the advantages of using Math Mammoth and how it can help you create a strong foundation in mathematics for your child. Read on for our Math Mammoth review . . .

Homeschool Math
Math. Just the mere mention of the word leaves a bad taste in my mouth. Yuck.
Although I placed third in my entire state in a math competition in school, I never had any confidence in my ability. I was told outright by a public school teacher that "boys are good at math and girls aren't." I went to a district where math, science, and sports reigned supreme (meaning boys) and girls were allowed in school only because the law required it. Well, at least it felt that way. It's one of the major reasons I'm homeschooling my girls — I don't want that kind of defeatist attitude fed to them! With that said, I'm always on the lookout for math programs that work and instill confidence and capability in my daughters.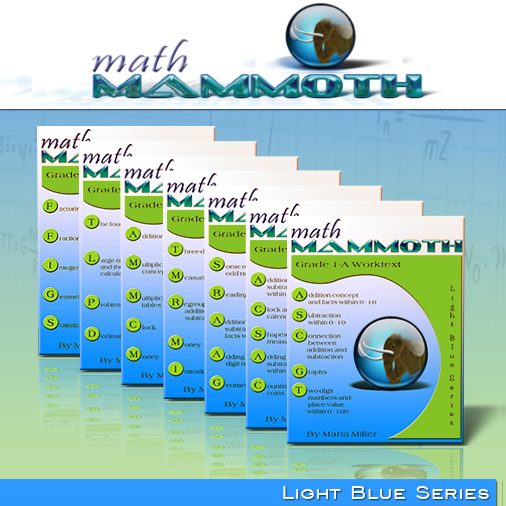 Our Math Mammoth Review
Math Mammoth is available for grades 1-7. It is a full elementary mathematics curriculum on its own. You can also use it as a supplement to other math curriculum to fill in any of the missing gaps and to gain extra practice. There are even placement tests and video lessons available for free on the website.
The full curriculum is known as the Light Blue Series while the Blue Series is for filling in the gaps with particular topics (not by grade level) such as geometry, telling time, and so on. This page has a full description of everything available, as well as a place to sign up to get free samples so you can try it before you buy it!
We were able to put Math Mammoth Grade 1-A & B (Light Blue series) digital worktext to the test recently. First of all, it's written by a woman, Maria Miller, a math educator and homeschool parent. (Can I hear some applause from my readers?)
Secondly, it's written as a framework to study the main topics of addition, subtraction, addition/subtraction facts, place value till 100, clock to the half hour, measurements in inches/centimeters, shapes, and coins. It's divided by topic so that in-depth time can be spent on each with the objective of mastery, rather than simply spiraling concept on concept. It might be called the "unit study" of math programs. That suits our learning style well.
My daughter enjoyed the worksheets, but that's kind of her "thing" right now. I know not all kids are that way. She really sharpened her facts memorization while using Math Mammoth. She liked grouping items and actually seeing how several different combinations of numbers can have the same sum, i.e. 2+3=5 or 4+1=5. She was very proud of her accomplishments and so am I. She actually asked to do Math Mammoth on several occasions.
Maria Miller has included some fun math games to try. My daughter loves any card or board game and it's a fun way to use math facts! Maria also provides a list of websites with free games to enhance the lessons. We haven't tried them all yet, but I'm sure we will.
Math Mammoth worktexts are available for instant download in digital format, on CD, and in printed books for most levels. You may print worksheets as you go along or print extras for review. I know that some have taken the file to a printer or some place like Office Max and had it three-hole punched or spiralbound. I've just printed the worksheets as necessary. If you're going to be doing a lot of printing, don't miss this helpful post: How to Choose the Best Printer for Your Homeschool
As a homeschooling parent, you quickly learn what works and what doesn't for your kids. Otherwise you're in for a lot of frustration for teacher and student. Math Mammoth is a no-nonsense way to learn that works for my daughters and I appreciate that!
The Advantages of Using Math Mammoth
Comprehensive and Conceptual Approach:
Math Mammoth covers all essential math topics, ensuring that your child receives a comprehensive math education. What sets it apart is its emphasis on conceptual understanding. Instead of rote memorization, Math Mammoth helps students grasp the "why" behind mathematical concepts. This approach promotes long-term retention and the ability to apply math skills to real-world problems.
Mastery-Based Learning:
One of the challenges in traditional education is that students are often rushed through topics, leaving gaps in their understanding. With Math Mammoth, your child can learn at their own pace. The curriculum encourages mastery-based learning, allowing them to progress to the next topic only when they've truly mastered the current one. This ensures a solid foundation before moving on to more advanced concepts.
Flexibility:
Flexibility is a hallmark of homeschooling, and Math Mammoth aligns perfectly with this approach. As a parent-teacher, you can choose which topics to cover and when, tailoring the curriculum to your child's needs and interests. This adaptability makes it easier to accommodate different learning styles and aptitudes within your homeschooling environment.
Differentiation Made Easy:
Homeschooling often involves teaching multiple children with varying skill levels. Math Mammoth offers resources for differentiating instruction, allowing you to provide individualized support. Whether your child needs extra practice, enrichment, or a different teaching approach, Math Mammoth provides the tools to make it happen.
Affordable and Accessible:
Quality educational materials can be expensive, but Math Mammoth offers an affordable alternative. The curriculum is available as downloadable PDFs, which means you don't need to invest in costly textbooks or workbooks. Simply print the worksheets and lessons as needed, saving both money and space.
Parent Resources:
Even if you're not a math expert, Math Mammoth has your back. The curriculum provides answer keys and guidance for educators and parents. This support ensures that you can confidently guide your child through their math education, even if you haven't taught math professionally.
In the journey of homeschooling, having the right resources can make all the difference. Math Mammoth empowers homeschooling families by offering a comprehensive, flexible, and conceptually-driven math curriculum. With this resource at your disposal, you can provide your child with a solid foundation in mathematics and the confidence to tackle math challenges in the real world.
Give Math Mammoth a try and watch your child's math skills soar!